The Delaware Farm Bureau offers various programs, funded by our membership dues, that encourage students to get involved in agriculture. Check out our current programs listed below: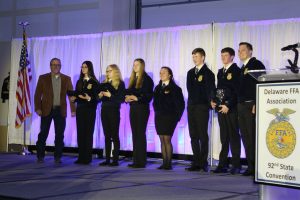 The Blue Jacket Bonanza Program was developed to provide high school students involved in the FFA, who do not have the financial means, a chance to earn their own blue jacket. A jacket will be awarded on a one time basis per student. To be granted a jacket the students will be required to complete an application process which entails a written essay, a letter of reference, and evidence of community service.
Congratulations to all 2023 Blue Jacket recipients!
Check back in January for the 2024 Blue Jacket Bonanza application.