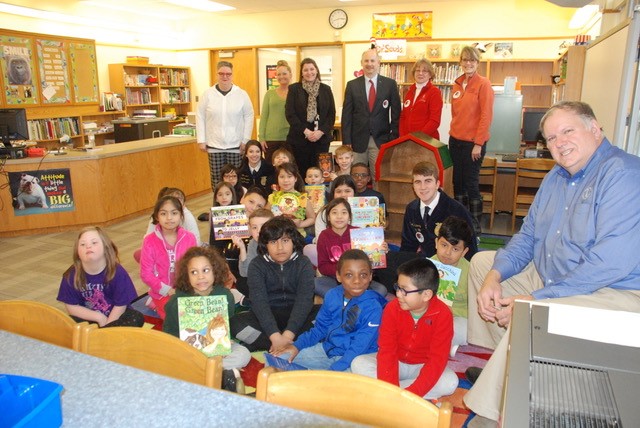 The Delaware Farm Bureau will be placing more than a dozen "ag accurate" books into every elementary school library in the First State within the next three years. In addition, to house the books in each library, DFB will provide a custom-made set of shelves called a "Book Barn."
The Book Barn project was begun in New Castle County, according to NCC Farm Bureau President Stewart Ramsey, who chairs the Promotion and Education Committee. At an American Farm Bureau Convention several years ago, the Delaware delegation saw a similar project undertaken by another state Farm Bureau. Ramsey's father-in-law made the first Book Barn. Another NCC farmer, Jimmy Correll, built a few more that winter, and since then Smyrna FFA has built additional barns, with materials paid for by the Farm Bureau. Gradually, as funds were available to purchase books, these have been placed into schools.
The project now has been accelerated, thanks to a "specialty crop" grant from the USDA, administered by Delaware Department of Agriculture. Specialty crops are, in general, fruits and vegetables as opposed to "row crops" of grain such as corn, soybeans and wheat. Christmas trees and honey bees are included.
With the grant funds, the DFB has purchased more than 1,000 copies of "ag accurate" books appropriate for children about crops grown in Delaware, such as apples, cranberries, grapes, green beans, peas, spinach and zucchini. A few of the books cover multiple crops, including "How Did That Get in My Lunchbox?" and "Who Grew My Soup?" Also included are several of the American Farm Bureau Foundation for Agriculture's "Book of the Year," selections, including this year's "Right This Very Minute" by Lisl H. Detlefsen. This book follows children through a day of meals, snacks and dessert to explore what farmers and ranchers are doing "right this very minute" to put food on our tables.
The expedited effort to place a Book Barn in every school began last month at Forest Oak Elementary School in Newark. DFB representatives, FFA state officers and guests from the Delaware Department of Agriculture were on hand as Ramsey read aloud the book "Green Bean! Green Bean!" to Martha Eldreth's third grade class assembled in the library.
Ramsey questioned the students about their experience with growing plants and surveyed them on which vegetables they liked to eat. He shared information about his farm and told the students how technology helps farmers. As an example, he described how robots are used to milk dairy cows on a neighbor's farm.
The children were full of questions for Ramsey, too. They all agreed they had learned something new about agriculture and would be willing to try a new food that they have not eaten.
Ramsey said later, "It is of paramount importance to engage with young folks at an early age, to help them understand what happens on a farm and where food comes from. Hopefully, they carry that home and educate their parents. That sounds crazy, but in today's age and our area of world, a lot of folks have lost touch with where food comes from and don't think farmers and farms are all that important, or even a necessary part of the food process. They think food comes from store or factory."
Ramsey added he hoped the students would be interested enough that their parents would look for new fruits or vegetables at the store, or better yet, at a farmer's market or farm stand.
He described how he loves seeing "the light come on" when children touring his farm watch him go into a corn field and pick an ear of corn, then pull back the husk. It's then that they realize they're looking at a field full of corn on the cob!
Book Barns were delivered to Rehoboth Elementary on March 28 and to Shields Elementary in Lewes on April 2. At Rehoboth, 72 fourth graders went outside on a beautiful spring day to hear Sussex County Farm Bureau's Women's chair Connie Fox read "Right This Very Minute." At Shields Elementary, Nancy King of King Crop Insurance in Georgetown read "Green Bean! Green Bean!" to 95 fourth graders as they ate lunch in the cafeteria. The students each were given a packet of green bean seeds and recipes using spring crops to take home.
Agriculture is an $8 billion industry in the First State, accounting for 30,000 Delaware jobs. There are 2,500 farms in the state, covering some 500,000 acres. Delaware Farm Bureau feels it is important for students to learn about agriculture, and these colorful books are a good introduction, Ramsey said.
Principals of elementary schools may call Heather Kline at the DFB office, (302) 697-3183, to schedule delivery of a Book Barn during the next school year.