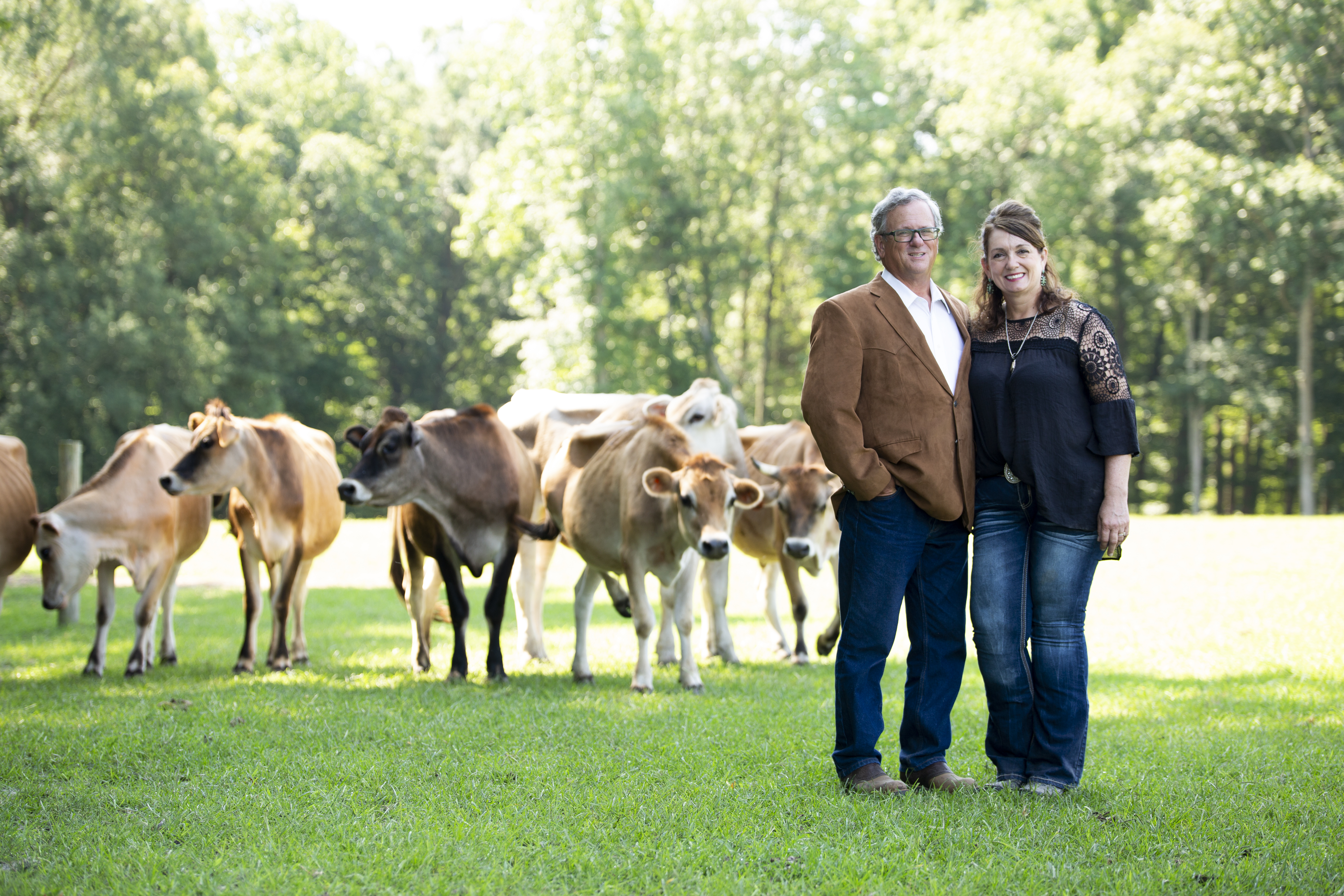 There have been farmers in Bill Powers' family for generations. "My cousin's kids up in New York are the eighth generation in farming there," he said.
In his direct line, farming skipped a generation with his father, William Powers Sr., who worked for the New York Central Railroad. In 1977, when that company merged with Pennsylvania Railroad, his father was transferred to Philadelphia, and the family settled in Delaware in the community of Arundel, off Limestone Road near the Pennsylvania state line. Powers was 10 years old. He has two brothers, Brendan and Joe. His mother, Karol, was a schoolteacher.
His family got the idea that their son wanted to be a farmer, Powers said, "when I started bringing tractors home to the subdivision."
His parents bought a farm in Townsend, on the Maryland state line. Powers rented the land from his parents while a senior at Newark High School. "I started farming in 1977 right out of high school with one tractor," he said.
When his father died at age 52 in 1987, Powers was only 26. He bought the farm from his mother, going to settlement a week after meeting his future bride, Joan Craig. "My dad had said a few years earlier I should think about buying the farm. He wanted to move to the beach," Powers said.
Powers worked on the assembly line at Chrysler in Newark from 1978 to 2006. He married in 1989. Joan's father wasn't a farmer either, but had been in the military, but her grandparents had a dairy farm in Chesapeake City, MD.
"People sometimes wonder why members of farm families marry someone from a farm family. You've got to be brought up in it," Powers said. "If we're invited to a wedding in June, we might be on time if it's raining. Joan understands."
Joan does the books and now works full time as a rural mail carrier. When he worked at Chrysler, she took care of all the animals. Powers raised hay and feed for the livestock.
"I would come home and cut hay at night. The next evening she'd have hay raked and I'd come home and bale," he said.
The couple had a daughter, Katie, in 1990 and a son, Will, in 1993.
The children helped on the farm from an early age. "I remember when Will was really little – he was maybe 3. We would get down and listen to the turkeys breathe because they can develop respiratory problems. I remember all the white bodies and red and blue heads, and Will said there was a sick one in one corner. He was looking in their eyes. He was right.
"I'd give him a stick when he was about 6, to help cut out a steer. The older workers couldn't do it as well as he could by age 8 or 10. He had been watching my wife and I.
Both children were active 4-H members and later members of Smyrna FFA, where they did meat judging before they learned livestock judging. Powers said, "I thought even if they don't farm later, they'll know how to pick out a piece of meat."
When the family went grocery shopping, he would ask the children to pick out the best cut of meat in the store – not that they were going to buy meat there, but just for the practice.
The children began showing livestock around 1998 and exhibited in local, state, regional and national shows.
Katie favored sheep and maintained a flock of Dorsets, Suffolks and wether-type Hampshires.
Will focused on hogs, maintaining a herd of mainly Poland Chinas with some Yorkshires and Chester Whites.
Together they had an assortment of club lamb and steer projects and a small goat herd. Both Katie and Will met with great success in the show ring and developed long-lasting friendships.
Katie attended Oklahoma State University, where she earned her bachelor's degree in animal science and participated on the collegiate meat judging team.
"A month before she graduated, she told me she wanted to go to grad school," Powers said. "I told her to get a job and let them pay for her master's."
Katie then obtained a graduate assistantship which helped pay for her degree. She received her master's in agricultural communications. After working in the industry for several years, she now has her own business, Powerful Dezigns, a full-service marketing firm specializing in photography and graphic design. During her busy season of January through March, she will be attending almost all the major livestock shows as a photographer. Katie lives in Oklahoma with her husband, Spencer, where they operate a show pig operation, McGuire Livestock.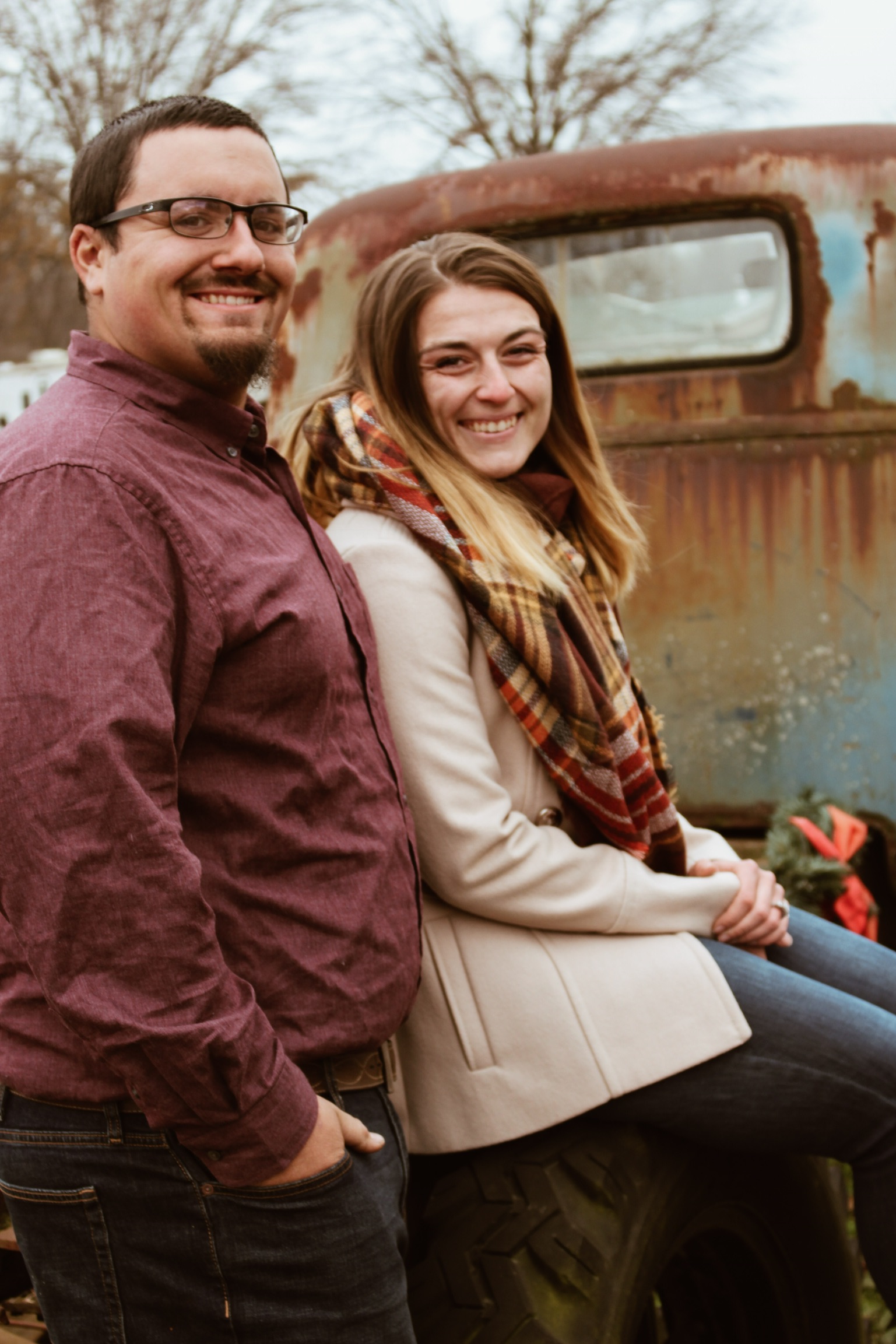 Will went to The Automotive Training Center in Exton, Pa., to learn auto and diesel mechanics. Powers said, "We work and manage the farm together. He and his fiancée, Ariel Bilbrough, will be getting married in October. She helps a lot on the farm, processing turkeys, entering invoices and helping at the farmers markets with Will. "
Recently, while Powers was being interviewed on the telephone, Will was grinding feed. "We make all our own feed," Powers said. "We grow non-GMO corn because of our customers. We grow our own feed and grind it. I am vertically integrated," he said.
Powers Farm raises cage-free laying hens and sells their brown eggs. The birds are housed in individual buildings, 75 to a house. Their eggs are collected by hand. There are no automated feeders, they must be filled individually. They have egg graders and automatic washers that wash 200 dozen eggs an hour, but workers are needed to run the machines.
"It's a niche market," Powers explained. "We have a lot more labor costs than an automated house, but we're making more money per dozen. We have to."
The larger operations go with volume. Powers doesn't. "They are two different markets," he said.
Powers raised turkeys again this year, something he did in the 1990s but gave up in 2001. "We raised about 240 this year," he said. Most were sold.
His beef cattle are Jersey and Linebacks because of their marbling and excellence at converting grass to meat. "We don't finish them in a feedlot," he said, although they are given some grain. They are finished on pasture.
He continues to raise sheep and goats. Most of the sheep are crossbred Dorsets and Hampshires. Since the children are no longer showing animals, they don't need purebreds.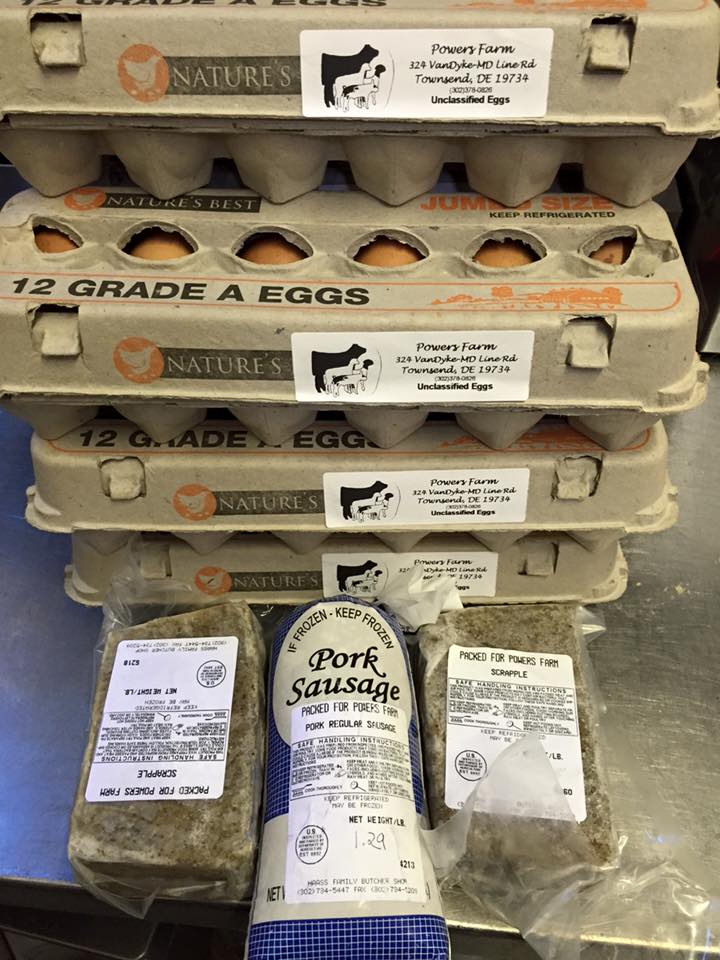 "We sell everything off the farm direct market," Powers said. "We sell to individuals, restaurants and small markets. We used to sell a lot of eggs at Willey Farms before the fire there."
Powers said he sells beef by the quarter, half, whole or by the steak, however the customer wants their meat. "A lot of times people come to buy beef and I suggest they try just one cut before buying a quarter or half, so they'll know what they are getting."
As with the beef, marbling is important in pork. Powers grows mostly Berkshires because of their marbling. After Katie finished her education, he asked her was it true about Berkshires and marbling. She said yes, because so much fat has been bred off other breeds.
"We don't want a lot of lard, just marbling. The fat should be marbled through the meat," Powers said.
He has the livestock butchered at Haas Family Butcher Shop in Dover or Sudlersville Meat Locker in Maryland.
"We pride ourselves in producing safe, wholesome, products to assist in maintaining the health of local customers throughout the Delmarva area. The farm is also a means of getting consumers of the area involved in agriculture," Powers said.
In addition to meat sales, the family also uses the wool from their sheep to create and sell custom-made wool-filled comforters, mattress pads and pillows. They also sell sheep skins — great for car seat covers, bed-rest patients and floor rugs. They also raise Australian Shepherd pups.
With Will's interest in farming, the Powers family purchased a second farm in Maryland three years ago. Both farms have a Mason Dixon marker on them.
Powers has been a Farm Bureau member since 1986. He served as New Castle County President from 1996 to 2004.  Joan Powers served as New Castle County Women's Committee Chair from 1990-2003.
Powers said he remembered being involved during Delaware Farm Bureau's 50th anniversary, and now he is serving as second vice president as the organization celebrates its 75th year.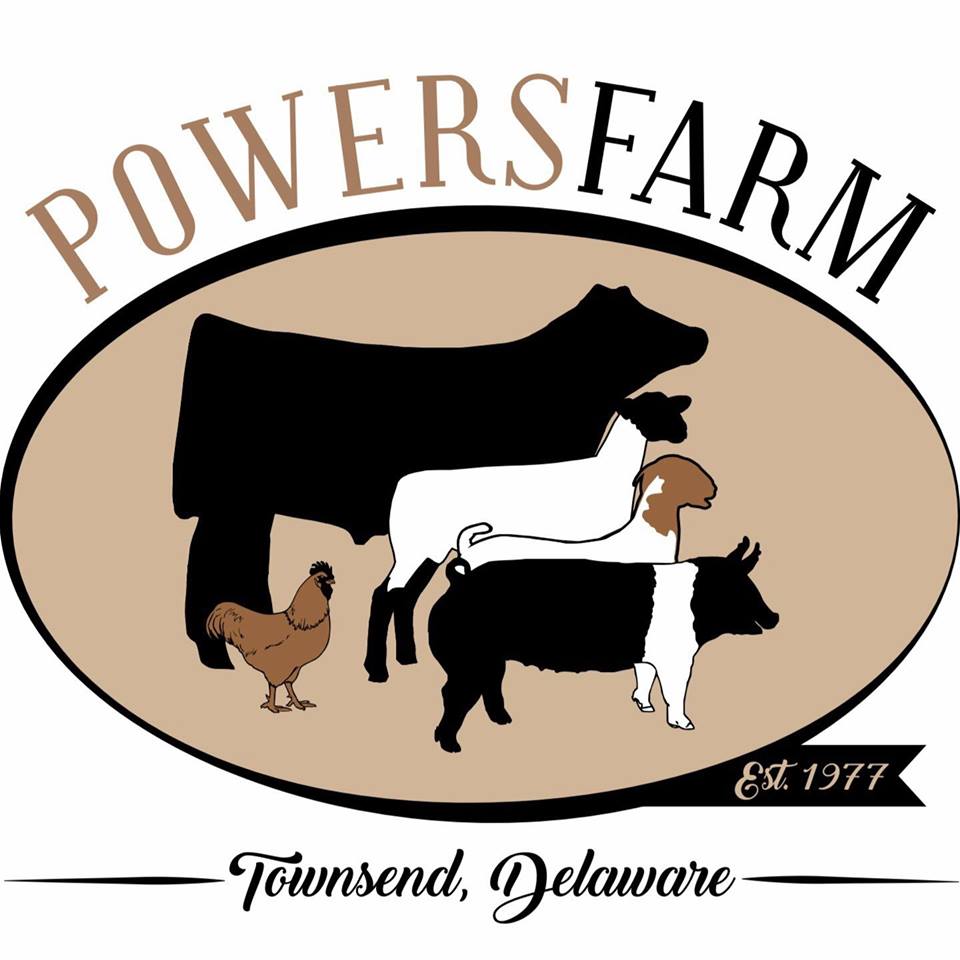 He also recalled that Joan served on the state board of directors before he did. "She would bring Katie and Will to meetings, and they would sleep under table. I think Will's been attending Farm Bureau meetings longer than anyone."
Will is now on the county board and is a New Castle County representative on the State Farm Bureau Board.
Powers' mother, Karol Powers-Case, is a member of the Farm Bureau Women's Committee and was a member of the Ag Literacy Committee which has been folded into the Promotion and Education Committee. Now 82, she is still involved in the farm operation. "She'll make deliveries," Powers said. "It keeps her busy."
In 2004, the Powers family put their Delaware farm in the county's Farmland Preservation Program; therefore, the land may never be developed.
Powers was elected to the New Castle County Council in 2006 and served through 2018.  He is a past member of the Delaware Beef Advisory Council, New Castle County Farm Preservation Advisory Board, the Delaware Open Space Council, the Delaware Citizen's Task Force for Water Quality, and the Search Committee for National Parks in Delaware.
He holds an Honorary State FFA Degree and has received both the Delaware Farm Bureau Service to Agriculture Award and the Farm Family of the Year Award.
Get to know your farmer! Call to arrange a purchase from the farm in Townsend at (302) 378-0826 or visit online at thepowersfarm.com.