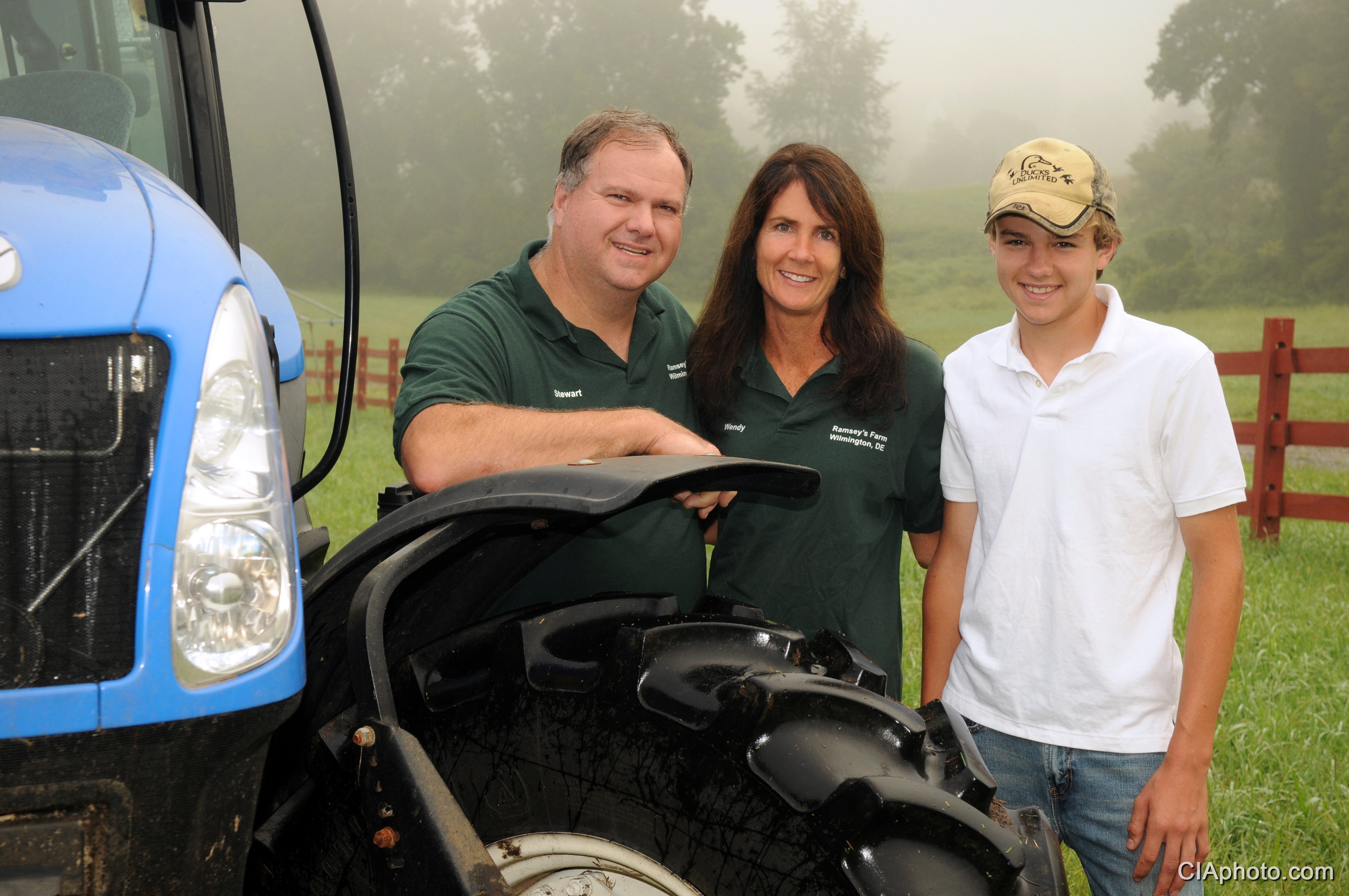 Stewart Ramsey is the fifth generation to operate Ramsey Farm, located between Brandywine Creek and the Pennsylvania State Line north of Wilmington. He has significant help from his wife, Wendy; his son, Carl; his sister, Jane, and his brother, John. His mother, Jane, also helped before her death, and cousins help, too, on occasion.
The largest share of their operation occurs on what was owned by the Ramsey family from 1860 through 1986, at which time all but 2 acres, the house and garage, was sold to a conservation organization. The land has since become part of the First State National Historical Park.
About the same time as the sale, Ramsey got his bachelor's degree in agricultural engineering from the University of Delaware and went to Pennsylvania with his father, where they milked cows.
"I decided to come back, get my master's degree and start farming on my own," he said. He has rented the home farm since about 1990.
"It was obvious to me that we would be not able do things the way they had done historically. Corn, soybeans and a small livestock herd were not a viable enterprise for me.
"We started off growing pumpkins immediately for pick-your own and agritourism."
Within two years, the family added a corn maze, then hay rides, nighttime hay rides, bonfires and school tours. In October, several thousand students of all ages visit the farm for educational programs, a hayride and to pick a pumpkin.
"Now we do all those things plus offering corporate bonding/team-building, parties and weddings. We host a mountain bike race and 5Ks. In 2019 we will host the local Great American Pumpkin Run, a multi-site race held in 20 locations in the eastern United States. We will be the Pennsylvania/Delaware host. It's a big race with about 1,000 runners."
The farm also produces hay for sale to the local horse industry. In 2013, the farm totaled roughly 120 acres across all crops and more than doubled in size in 2014. The Ramseys also now have a small equine boarding facility.
Ramsey's wife, who has worked in information technology in the pharmaceutical area and now works with a small consulting company, takes care of the equine boarding logistics. "A barn was offered to me, so we added equine to our portfolio of things we do," he added. The farm has hosted trail rides, including the Delaware Equine Council's fall trail ride. With preserved land, riders can weave their way through miles of trails on about 10,000 contiguous acres. The hilly land has areas that are too steep to farm and plenty of woods with huge trees.
Ramsey said he had to start all over, since the entire farm and all its equipment had been sold. He thought he'd wear out the pin of his first tractor, hooking and unhooking equipment. Now he has seven commercial-scale tractors, many of which stay hooked to a piece of equipment  all season.
"I hope my son will not have to start over like that. Farming can be exhausting, and running equipment from one field to the next can wear you out."
He added that his grandfather, born in the late 1890s, would shake his head at all the equipment farmers use today. In his father's time the farm transitioned from horse to tractors, back in the 1940s.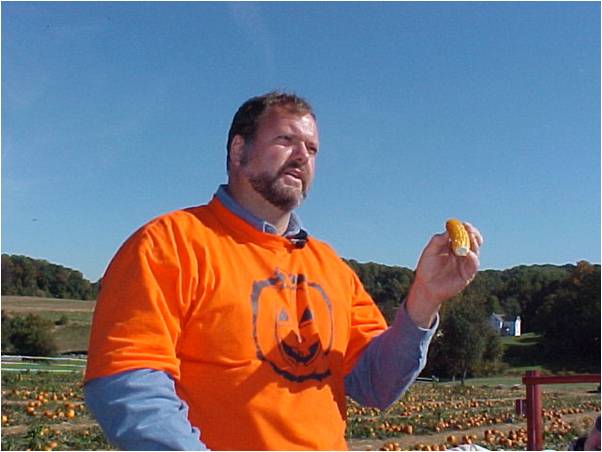 It's Carl's decision whether he will continue the farm as its sixth generation. He is presently a senior at Penn State, studying ag business management and economics. "As a family we're trying to figure does it make sense for him to return to farm full-time for me. Wendy and I have full-time jobs off the farm. (Ramsey is a senior principal in IHSMarkit's Agricultural Forecasting and Consulting Service.)
"It's not an easy decision, not one that anyone can take lightly. We don't want him to come back and be hostage to something. I know he loves the farm, but the economics is challenging."
Agritourism is keeping the farm alive, but is still subject to weather. This has been a horrible year for hay.
"Everything we do turns to mud," Ramsey said.
Deer are a significant problem and cannot be hunted because the land is a national park. They've challenged the sweet corn, pumpkins and alfalfa hay. "It's unbelievable how much they eat. They're more a challenge to get under control than most people realize. I'm sure glad deer don't eat hay rides!"
Ramsey has spent his professional career applying his knowledge of farming and his formal education to help large companies plan their business for the future. This work has allowed him to learn about agriculture in other parts of the country and around the world. He is passionate about telling agriculture's very positive story about continuous improvement and the use of technology to make food affordable, plentiful and safe.
Ramsey admitted he is quick to get on a soapbox. That's one reason he is involved with Farm Bureau. He has been a member of Delaware Farm Bureau since 1995. He soon became a New Castle County Board member and has served as secretary/treasurer since 2001 and is now president also.
"I have no problem talking in front of folks about the importance of agriculture, our values, and sharing the good story that farmers in our state and nation have in terms of stewardship, sustainability and the environment — what we do and the investments we make to make food safe and keep our water clean. We don't apply fertilizer or chemical pesticides haphazardly. They're very expensive. They're used when needed, when it makes sense and there's an economic benefit.
"I care about our ability to feed the world. We have a responsibility to try to produce economically viable food and affordable at the same time. We must be careful not to take sound production technologies out of the hands of farmers because of the philosophies of others."
In 2007, he was appointed chair of the Delaware Farm Bureau Agricultural Education Committee, chair of DFB's Ag in the Classroom Program, and DFB education ambassador to American Farm Bureau Federation. He has served as the public relations chair at the county and state levels since about 2010. He is a member of the board of directors of the Delaware Farm Bureau Foundation.
Ramsey serves as co-chair of the Milk Run, a joint effort of the Foundation and New Castle County Farm Bureau which has generated nearly $75,000 to benefit two charities: the Ministry of Caring's Milk for Children Fund and the Neighborhood House Inc.
His farm holds annual food drives to collect food and money to help provide for the Food Bank of Delaware, Lutheran Community Services and The Ministry of Caring. He plants 2 acres of sweet corn each year to donate to them.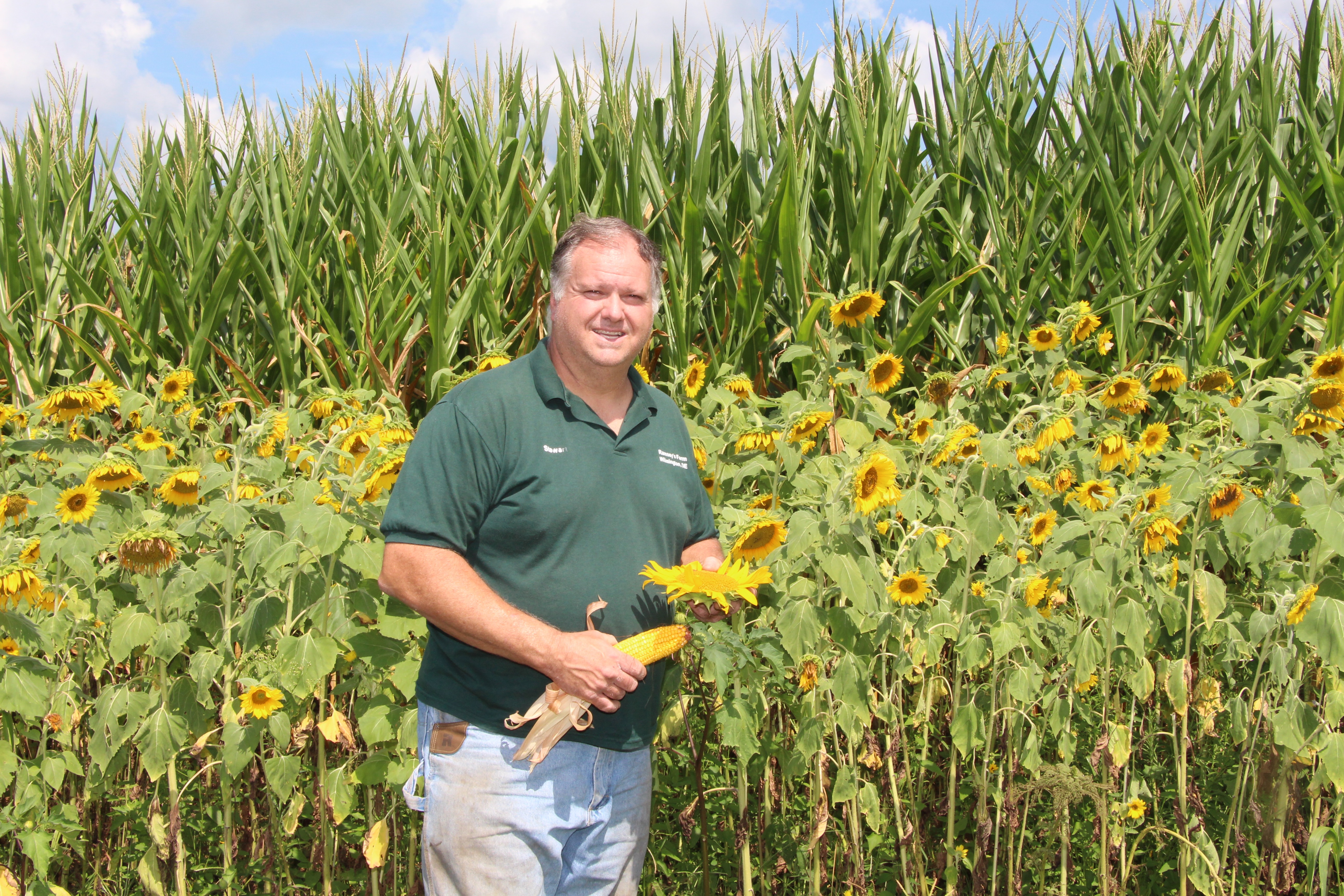 Ramsey is a regular volunteer at the Delaware Envirothon which brings teams of the top high school students in the state together each year to test their knowledge of environmental impacts on the land.
He has served on the University of Delaware Agricultural Alumni Board and is a past president of the Ag Alumni Association. He received a distinguished Alumni Award from the University of Delaware College of Agriculture. He and the farm were awarded the 2013 State of Delaware – Governor's Conservation Award for Agriculture in New Castle County. That same year the Ramseys were named Delaware Farm Bureau Farm Family of the Year.