A Time to Give Thanks to our Local Farmers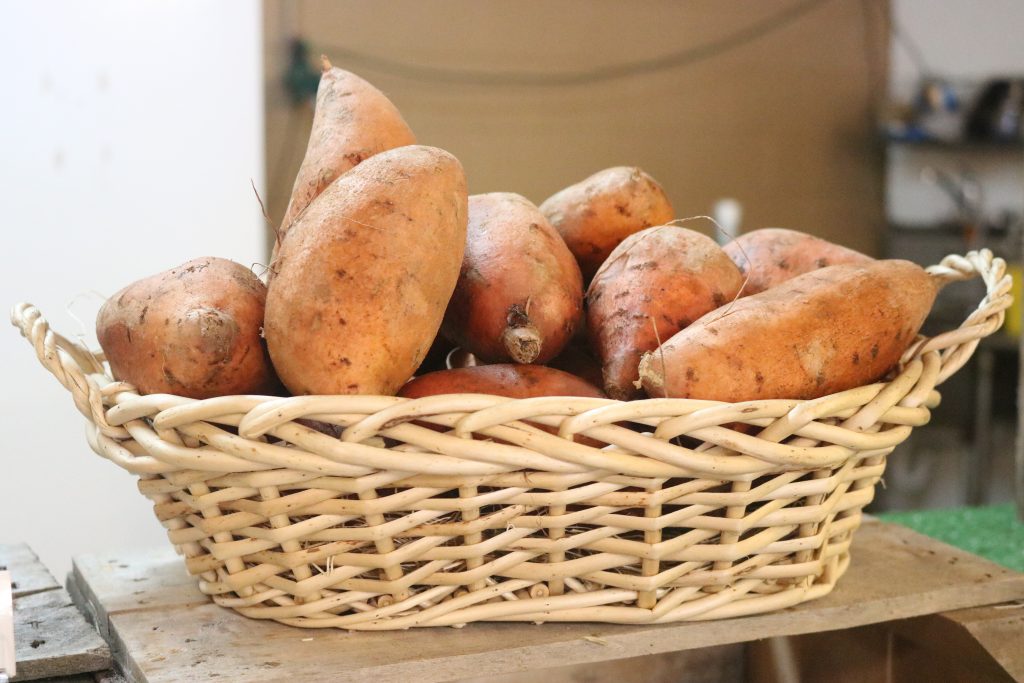 Did you know that you can grow your entire
Thanksgiving meal in Delaware?
Scroll your mouse over the Thanksgiving table below to see what can be grown in Delaware!
This list includes Delaware Farm Bureau Farmer Members.
To find out how to become a member, visit our membership page or call us at (302) 697-3183.
     550 Silver Run Road
Middletown, DE 19709
(302)-378-8949
104 Clark Farm Road
Smyrna, DE 19977
(302) 653-7979
B&B Farms
1019 Caldwell Corner Road
Townsend, DE 19734
(302) 378-8819
Edwards Farm
1416 Bethel Church Road
Middletown, DE 19709
(302) 376-1557
Fairview Farms
380 Green Giant Road
Townsend, DE 19734
(302) 378-0611
Filasky's Produce
1343 Bunker Hill Road
Middletown, DE 19709
(302) 378-2754
Highland Orchards Farm Market
1431 Foulk Road
Wilmington, DE 19803
(302) 478-4042
Highland Orchards of Hockessin
7360 Lancaster Pike
Hockessin, DE 19709
(302) 239-4915
Power's Farm Market
324 VanDyke-Maryland Line Road
Townsend, DE 19734
(302) 378-0826
Ramsey's Farm
330 Ramsey Road
Wilmington, DE 19803
(302) 477-1499
Whimsical Farms
3315 Steele Road
Newark, DE 19702
(302) 898-0313
Willey Farms
4092 DuPont Highway
Townsend, DE 19734
Bethesda Farm
2481 Hourglass Road
Hartly, DE 19953
Bobola Farm & Florist
5268 Forrest Avenue
Dover, DE 19904
(302) 492-3367
Ficner's Farm
1911 Fast Landing Road
Dover, DE 19901
(302) 674-4677
Fifer Orchards
1919 Allabands Mill Road
Wyoming, DE 19934
(302) 697-2141
M&G Ranch and Meat
1117 Slaughter Station Road
Hartly, DE 19953
(302) 943-4669
Poynter's Tree Farm and Christmas Shop
13480 S. DuPont Highway
Felton, DE 19943
(302) 284-4801
Robbins Paradise Produce
4025 Paradise Alley Road
Harrington, DE 19952
Schreppler's Fir Tree Acres
2216 Woodlytown Road
Magnolia, DE 19962
(302) 697-7396
19 Ruyter Drive
Frederica, DE 19946
(302) 335-4460
T.A. Farms
4664 Mud Mill Road
Camden-Wyoming, DE 19934
(302) 492-3030
     Adkins Produce
32008 Long Neck Road
Millsboro, DE 19966
(302) 945-9700
8428 Sharptown Road
Laurel, DE 19956
(302) 875-4952
Brittingham's Produce
16001 Harbeson Road
Milton, DE 19968
(302) 684-4232
Country Kids Produce
Pepper Pond Lane
Laurel, DE 19956
32907 Sussex Highway
Laurel, DE 19956
(302) 519-0057
Elmer's Market
13257 Seashore Highway
Georgetown, DE 19947
(302) 337-8388
Evans Produce
9843 Seashore Highway
Bridgeville, DE 19933
(302) 337-8130
Fifer Orchards Local-Fresh Market
200 Cullen Street
Dewey Beach, DE 19971
(302) 227-8680
Hay Wagon Country Produce
17166 Phillips Hill Road
Laurel, DE 19956
(410) 868-4617
Lawson's Produce
18781 Harbeson Road
Harbeson, DE 19951
(302) 745-0666
Little Wagon Produce
2667 Seashore Highway
Greenwood, DE 19950 
(302) 349-5100
Parsons Farm Produce
30381 Armory Road
Dagsboro, DE 19939
(302) 732-3336
Sayre Baldwin Farm
8100 Seashore Highway
Bridgeville, DE 19933
(302) 470-1730
Totem Farms
16300 King Cole Drive
Milton, DE 19968
(302) 930-1840
T.S. Smith & Sons
9045 Redden Road
Bridgeville, DE 19933
(302) 727-1988