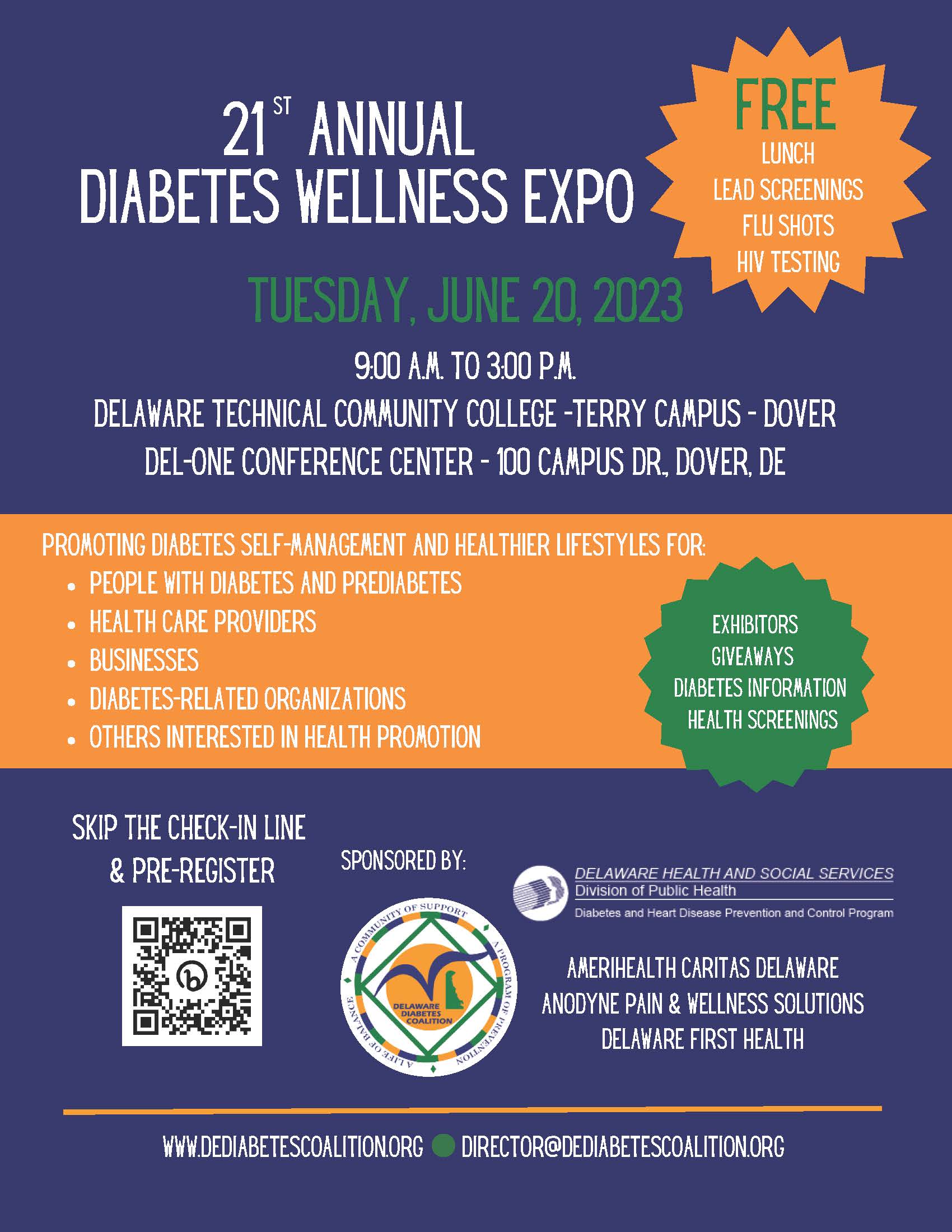 The public is invited to the 21st Annual Diabetes Wellness Expo on June 20, 2023 at Delaware Technical Community College's Terry Campus in Dover, Delaware. The free event will be held from 9:00 a.m. to 3:00 p.m. in the Del-One Conference Center, located at 100 Campus Drive. Lieutenant Governor Bethany Hall-Long will speak at noon.
The Expo is hosted by the Delaware Diabetes Coalition (DDC) and sponsored by the Division of Public Health's (DPH) Diabetes and Heart Disease Prevention and Control Program (DHDPC) and the Physical Activity, Nutrition and Obesity Prevention Program. Bronze sponsors are AmeriHealth Caritas Delaware, Anodyne Pain & Wellness Solutions, Beebe Healthcare, Delaware First Health and Tidal Health.
More than 95,000 Delaware adults reported in 2021 that they had been diagnosed with diabetes, according to the Delaware Behavioral Risk Factor Survey. The survey also shows that 84,800 additional Delaware adults reported being diagnosed with pre-diabetes. Progression to type 2 diabetes can be prevented or delayed by losing weight, engaging in at least 150 minutes of physical activity weekly and improving one's diet.
People with diabetes, pre-diabetes, caregivers, employers and health professionals are encouraged to attend the Diabetes Wellness Expo to learn how to prevent complications of the chronic disease, such as kidney failure, adult blindness, lower limb amputations, heart disease and stroke.
More than 30 exhibitors and educational seminars will provide information about diabetes management, nutrition, exercise, medication adherence, hearing and mental health. Diabetes and blood pressure screenings, hearing screenings, stress assessment and COVID-19 testing and vaccinations are offered at no cost. Health screenings are provided by DPH's Kent County Mobile Unit, Beebe Healthcare Delaware State University, Mast Audiology Services and PACE Your LIFE.
A complimentary lunch is included for registered attendees. To register or become a vendor for the Diabetes Wellness Expo, visit https://www.dediabetescoaliton.org/wellness-expo/. Vendors must register by June 9. Attendees can register up to the day of the event. For more information, contact DDC at director@dediabetescoalition.org or 302-519-6767.
To learn more about diabetes management and prevention programs and resources, visit https://www.healthydelaware.org/Individuals/Diabetes#effects or call DHDPC at 302-744-1020.