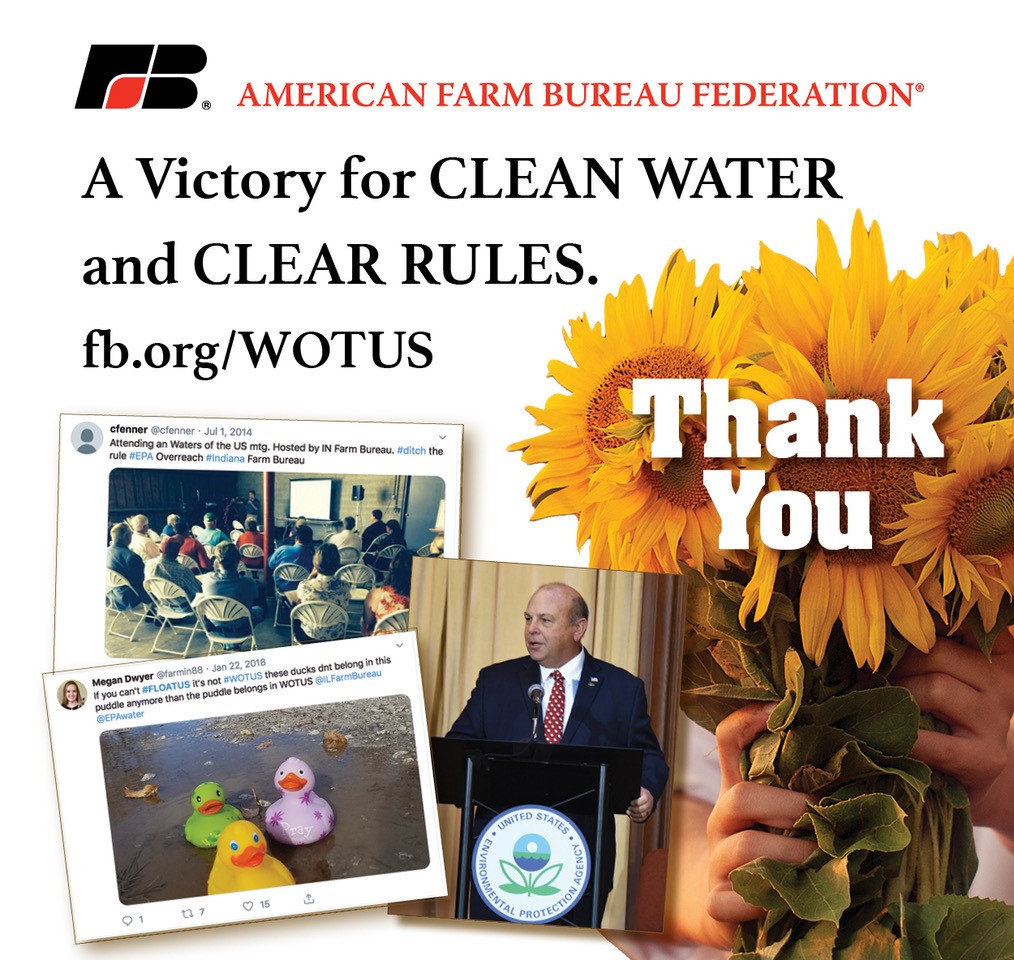 The Sept. 12 repeal of the 2015 Waters of the United States rule is welcomed by farmers, who have faced a web of confusing and unclear rules related to land-use decisions.
American Farm Bureau Federation President Zippy Duvall said, "Farmers and ranchers share the goal of ensuring clean water, but the 2015 Waters of the United States rule was unreasonable and unworkable. It made conservation more difficult and created huge liabilities for farmers.
"No regulation is perfect, and no rule can accommodate every concern, but the 2015 rule was especially egregious. We are relieved to put it behind us. We are now working to ensure a fair and reasonable substitute that protects our water and our ability to work and care for the land. Farm Bureau's multi-year effort to raise awareness of overreaching provisions was powered by thousands of our members who joined with an array of allies to achieve this victory for clear rules to ensure clean water."
Delaware Farm Bureau President Richard Wilkins said, "Farmers were the first environmentalists; we work hard to protect our natural resources. We live on our farms and value clean water and clean air. We look forward to a new rule that will be clear about what activities are regulated and what landscape features are protected so that we are not caught unaware as we go about our farming activities."
Don Parrish, AFBF senior director of regulatory relations, on AFBF Newsline said the repeal means we will revert back to the rules that existed before 2015 as a new rule is developed that "provides clarity and really draws a line on the landscape. One one side of the line, the waters are important enough that the federal government should regulate. On the other side of that line, states should regulate."
Parrish added hope that the new rule would take a common sense approach to regulating water, one that "allows farmers to continue to farm and improve the productivity of their land and do the kind of things that it's going to take to pass farmland down from generation to generation."
The Waters Advocacy Coalition, a broad coalition of organizations advocating for clean water and clear rules, thanked EPA and the Army Corps of Engineers for repealing the problematic 2015 WOTUS rule, which it said "vastly and unclearly expanded the definition of 'Waters of the United States' beyond the limits imposed by Congress and affirmed by the U.S. Supreme Court."
The 2015 WOTUS rule, according to the Coaltion, "granted the federal government nearly unlimited authority to regulate any low spot where rainwater collects."
The group also is encouraging the administration to finalize a new rule that protects the nation's waters and provides clear rules for states, farmers, ranchers and small businesses to follow.