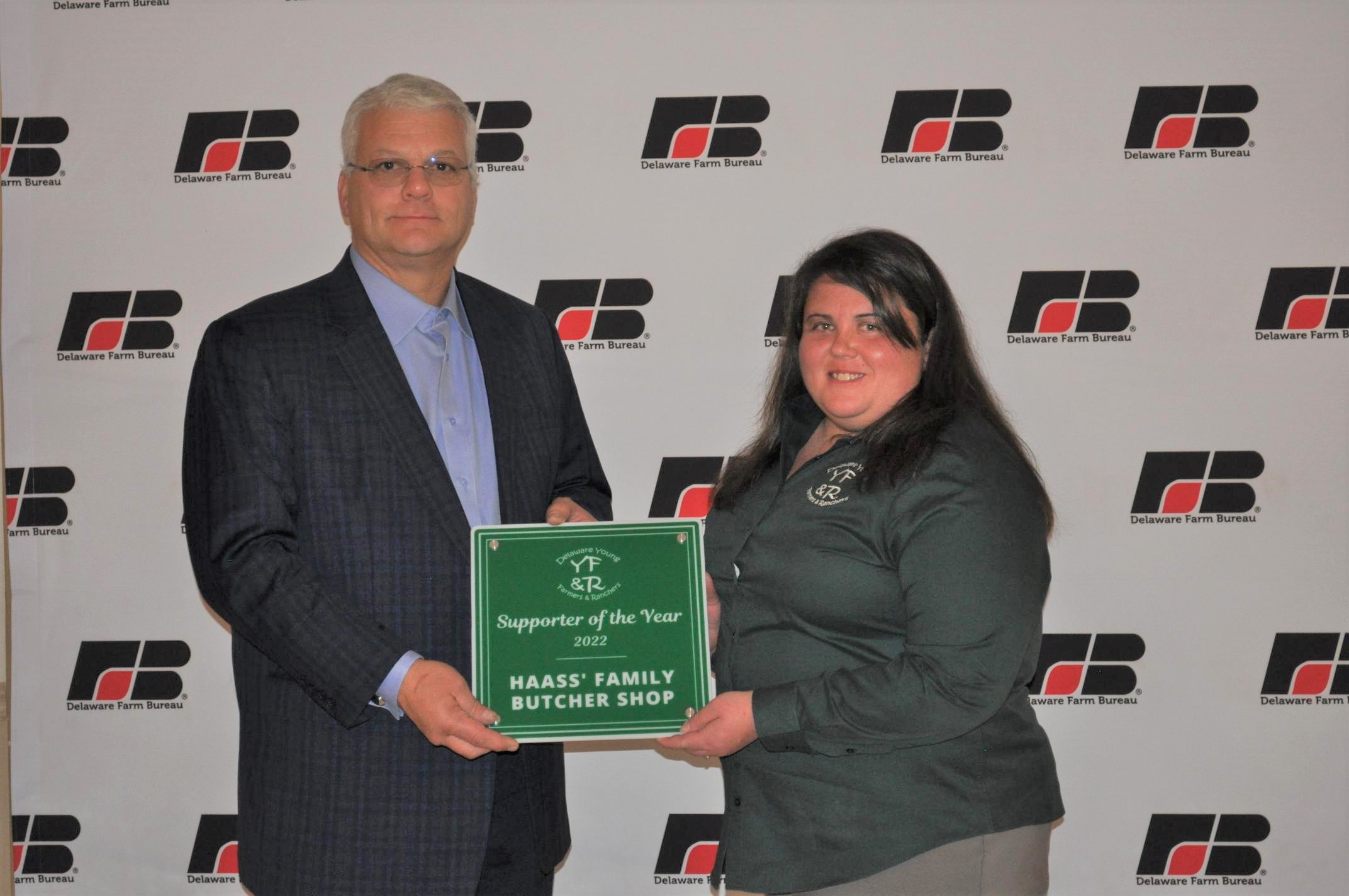 Leading a fourth and fifth generation butcher shop isn't all that Jeff Haass has been up to lately. He was also honored as the 2022 Delaware Farm Bureau's Young Farmers & Ranchers Committee Supporter of the Year.
The family-led business, Haass' Family Butcher Shop located in Dover, Delaware, focuses on locally sourced meat and produce with a dash of volunteering and community service.
The owner was honored for his commitment to improving the future of agriculture – one farmer at a time, according to State YF&R Coordinator Kali Voshell. She added that Haass was chosen for his numerous contributions such as free butcher services for the committee's pig raffle and donations of pulled pork and cooking and warming equipment for its annual Strawberry Festival. He also allows committee members to sell raffle tickets in his store throughout the year.
"Every contribution from businesses like Haass' Family Butcher Shop helps further our mission to attract hard working agricultural professionals and advocates through professional development and networking activities, empower future leaders and increase interest in agriculture as a way of life," Voshell said.
Haass attended the Delaware Farm Bureau's Annual Banquet in December where he was presented the honor for himself and the shop by state YF&R Chair Mollie Lynch.
He told the crowd of fellow Farm Bureau members and supporters, "That's what we do. We work hard and we also thank hard. But you know the best part of those days is supporting our children, our future. And that is our future so I'm proud to receive this award because I support our children, our youth, and our future."
Haass might not go to work for the accolades, he added, but the acknowledgement of his service to agriculture was well received.
"I never thought I'd get an award for this because I don't go to work for that reason. I go to work because I love it. I love what I do. I love the country. And I love to see the young men and women grow up to take our shoes," he said.
Haass' Family Butcher Shop can be found online at https://haassmeats.com, via phone at 302-734-5447 or in person at 3997 Hazlettville Rd, Dover, DE, 19904. Businesses interested in supporting the statewide Young Farmers & Ranchers Committee or other opportunities at the Delaware Farm Bureau should contact Kali Voshell at kali.voshell@defb.org or 302-697-3183. Find the Delaware Farm Bureau online at www.defb.org.