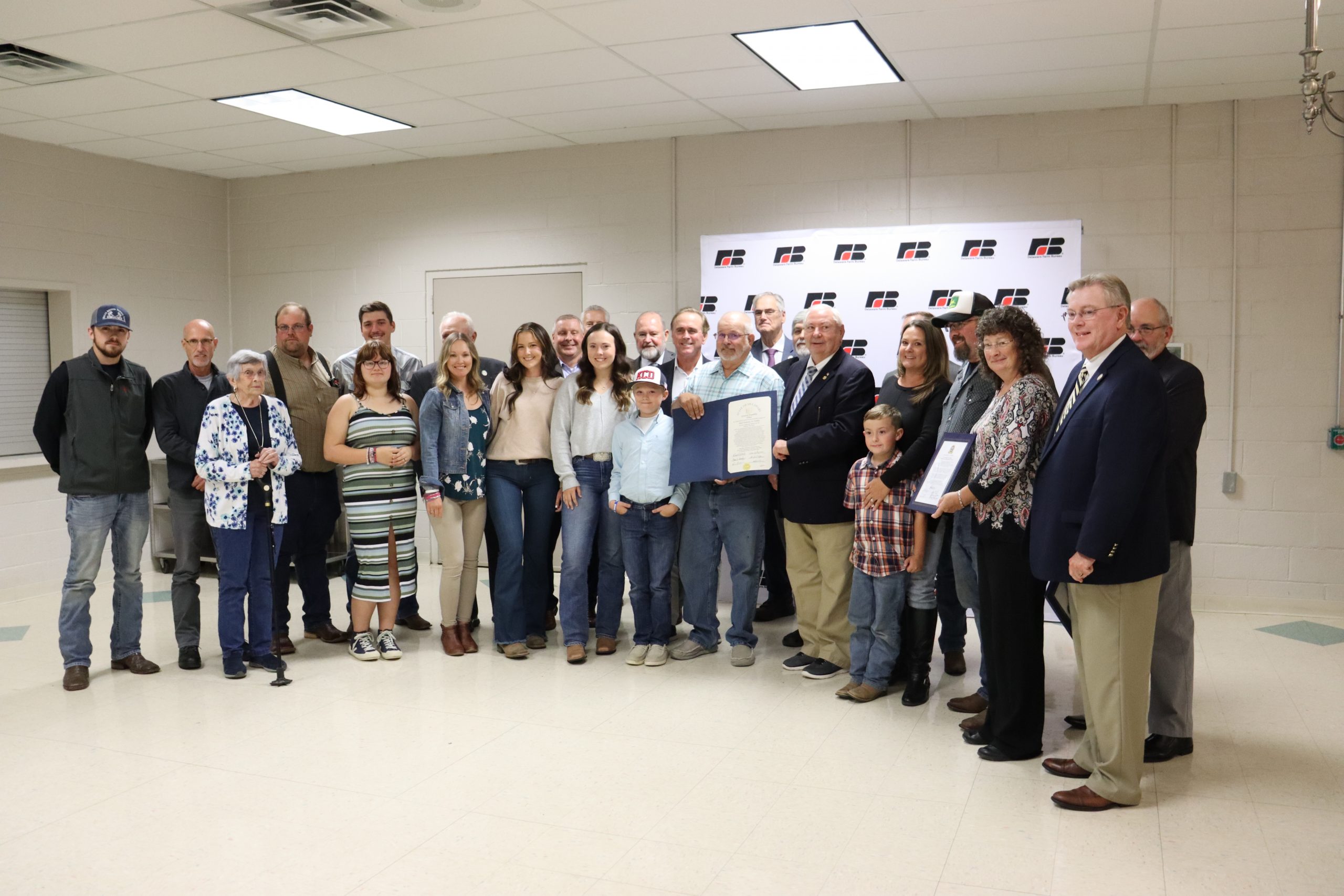 The Kent County Farm Bureau is proud to announce the 2023 awardees for the Distinguished Service to Agriculture, Farm Family of the Year and Young Farm Family Achievement – Excellence In Agriculture awards. Each awardee was honored during the Kent County annual banquet Monday, Sept. 25 at Felton Fire Hall.
Gary Rhodes – Distinguished Service to Agriculture 2023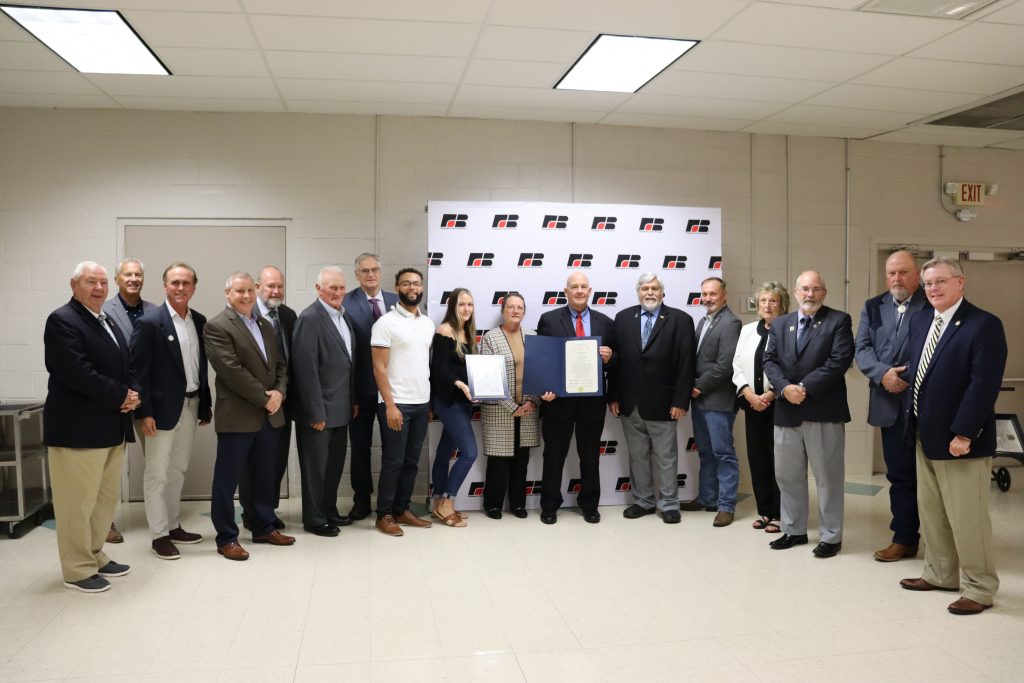 Gary Rhodes has a lifetime of farming and related experiences under his belt. In honor of his dedication to the industry and his fellow farmers, the Kent County Farm Bureau awarded him with the Distinguished Service to Agriculture award Monday night during its annual banquet. 
Rhodes was born and raised on the oldest purebred Guernsey dairy farm in the state of Virginia, according to Kent County Board President Jim Minner.
He graduated with a Bachelor's Degree in Dairy Science from Virginia Tech and started a career working at Southern States. To this day, Rhodes has worked at six Southern States locations, including Christiansburg in Virginia and Sudlersville and Easton in Maryland. He moved to Delaware in 1980 and also worked at the Middletown, Bridgeville and Milford locations.
In 2009, Rhodes was named Manager of the Year for Southern States Cooperative, an achievement he claims to be his proudest moment.
He has been heard saying, "It gives me great pleasure to work in an industry that feeds the world."
Paul Cartanza, Sr. – Farm Family of the Year 2023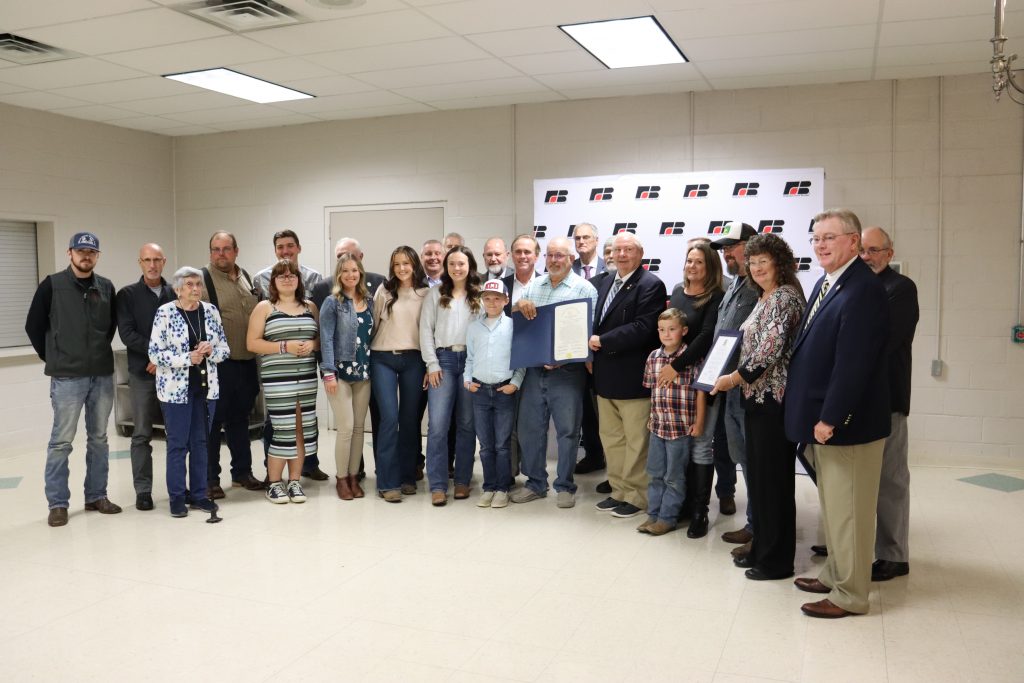 Paul Cartanza, Sr., is a second-generation farmer leading future generations as they work to conserve land and help feed Delawareans and is this year's Farm Family of the Year awardee for Kent County.
Cartanza's father, Phil Cartanza, came to Delaware in 1952 with a dream to farm in the First State. Phil went out on his own after a couple of years and purchased land across the street; Shadybrook Farms was born.
Paul and his brother Mark Cartanza were born into farming. At the age of eight, he was riding the back of the potato planter. He was a member of the FFA and Chestnut Grove 4H Club. As he got older and took on more responsibilities, his father started to expand. In 1976, a grain elevator was built which he went on to run for 29 years along with his other responsibilities on the farm. Cartanza's father passed away in 2001, but Paul's dream of farming continued.
Lazy Day Farms became a reality for the Cartanza family when he inherited farmland from his Uncle Mike for whom they cared for several years. Lazy Day Farms currently farms 1200 acres, growing corn, soybeans, wheat, and processing vegetables. In 2017, they added a grain elevator to the operation. Currently, they are working with third and fourth generation farmers of Shadybrook Farms, Paul, Jr and granddaughter Taylor, to dry and store grains.
Over the years, Cartanza has served as the Chairman of the Delaware Potato Board. He currently serves on the Governor's Council for Agriculture, the Council of Farm Organizations, the Kent County Farm Bureau Board and as the 2nd Vice President of Delaware Farm Bureau. He also is working with the University of Delaware to help monitor sea level rise on their farms along the bay.
Cartanza has two children, Paul, Jr, and Angela, and four grandchildren. He and his wife Jan were awarded the Supporters of the Year award in 2016 for supporting the Young Farmers and Ranchers.
Teddy and Rebecca Bobola – Young Farm Family Achievement- Excellence In Agriculture 2023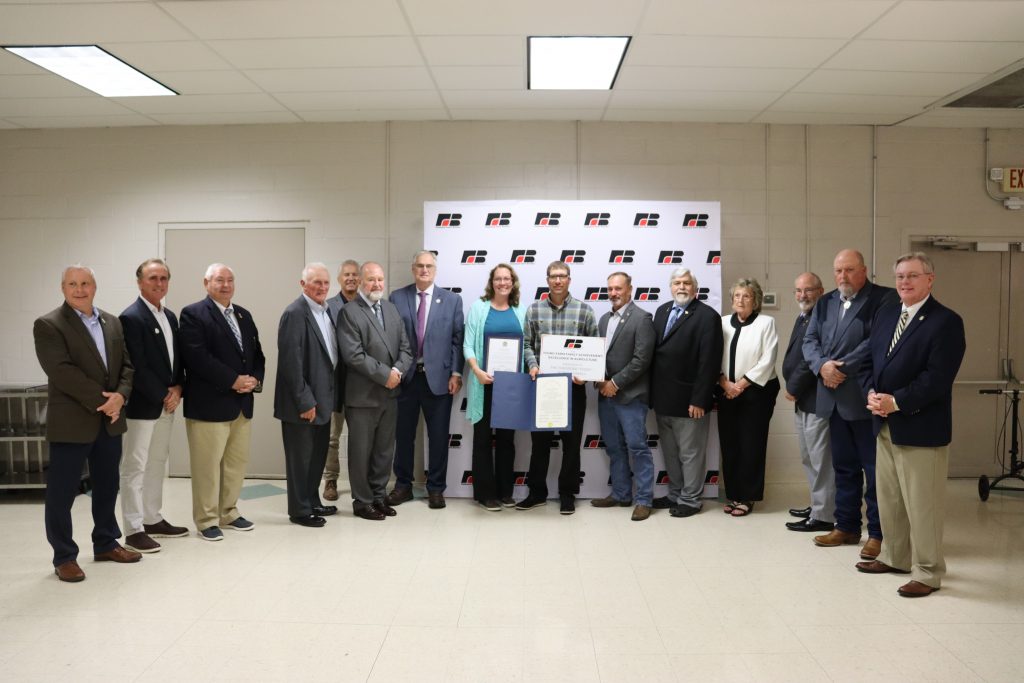 The Young Farm Family Achievement – Excellence in Agriculture award is new this year and was awarded to Teddy and Rebecca Bobola. They have both had a long tenure in the agricultural field, including years of involvement with the Delaware Farm Bureau's Young Farmers & Ranchers Committee.
Over the course of their time with DEFB, both Bobolas have served in leadership roles in the YF&R Committee and other areas. Both continue to work full-time jobs on and off the family farm while raising their family which includes two sons, seven-year-old Brant and four-year-old Theo. They are also active members of their church.
Their contributions to the family farm include working five chicken houses, raising and caring for sheep and pigs and tending to 1,500 acres of farmland which produces wheat, hay, barley, corn, soybeans, strawberries and pumpkins. They support the Bobola Farm & Florist shop located on the farm by assisting with festivals in the spring, like the YF&R's annual Strawberry Festival.
They both value education and hold Bachelor of Science degrees from Delaware State University; Teddy has a degree in Agricultural Business and Rebecca holds a degree in Fisheries and Wildlife Management. Teddy is employed full-time on the farm and Rebecca is employed by the Delaware Department of Natural Resources as an Environmental Program Manager in the Wetlands and Waterways section.
The Larrimore Family – Farm Family of the Year 2020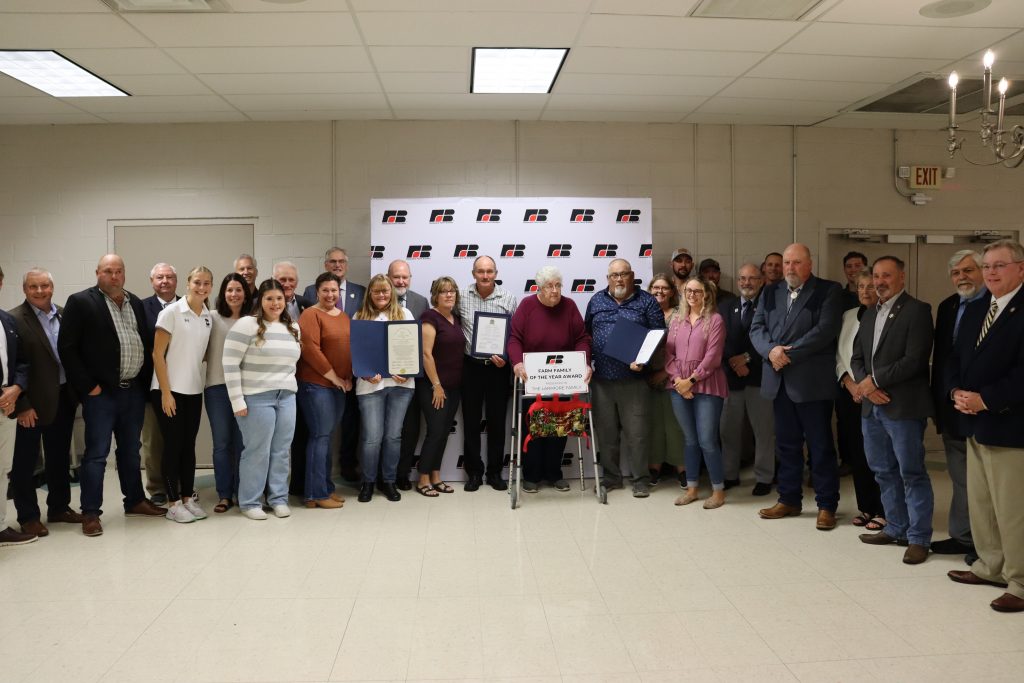 The Larrimore Family was awarded Farm Family of the Year in 2020 but presented their award this year due to the COVID-19 pandemic.
In 1941 at the age of 15, James (Murph) Larimore took over running the family farm in which his mom and some of his brothers and sister lived on. His Dad had died in 1941 at the age of 52. So, the farming responsibilities fell to Murph. The farm consisted of a few dairy cows which were milked by hand, but they mostly raised corn, soybeans, and wheat.
On December 1, 1951, Murph married Doris (Effie) Wright. They moved in with Murph's mother, Rachel, better known as Gramps to all of her grandchildren. Murph also had a brother named Walter (Mose), who had disabilities. He lived with James and his mom, Rachel, until his death on March 4, 1987. Mose was a big help for many years. Although he did not know how to read, write, drive, or even ride a bike, he enjoyed helping out and living with all of them.
On September 12, 1961, Gramps passed away at which time Murph took over full responsibilities of the family farm. The farm where they lived consisted of approximately 200 acres.
One thing that always stood out to Murph and Effie's four children is that they always did the farming together. Effie would pick many acres of corn with the 560 which had a 2-row corn picker, while Murph, Mose and the children unloaded the wagons in the corn crib and take another wagon out to the field so Effie would not have to get off.
Murph and Effie went on to purchase two additional farms, where they built two broiler houses. The farms today are still in the family. As the children grew up and took over the farm responsibilities with Murph, Effie went on to find a couple of jobs outside of the farm. For several years, she worked in the Burrsville store and then she became a mail driver, particularly on Rural Route 3, as it was called.
When Murph and Effie's sons, Randy and Pat, graduated from Lake Forest High School, they both worked full-time on the farms, and currently still work on the family farms. Both have gone on to have sons of their own. Randy has a son, named Jason, and Pat has a son named, Ben, and both of these young men also work full-time on the farm.
On September 21, 2004, Murph passed away and the farming has been passed on to the boys.
Murph and Effie were married for 52 years. Effie still lives on one of the farms at the spry age of 90.
Murph and Effie did more than just farming, they taught their children to be good neighbors and to be kind to one another, a lesson they keep dear to their hearts today.
Eugene Dill – Distinguished Service to Ag 2020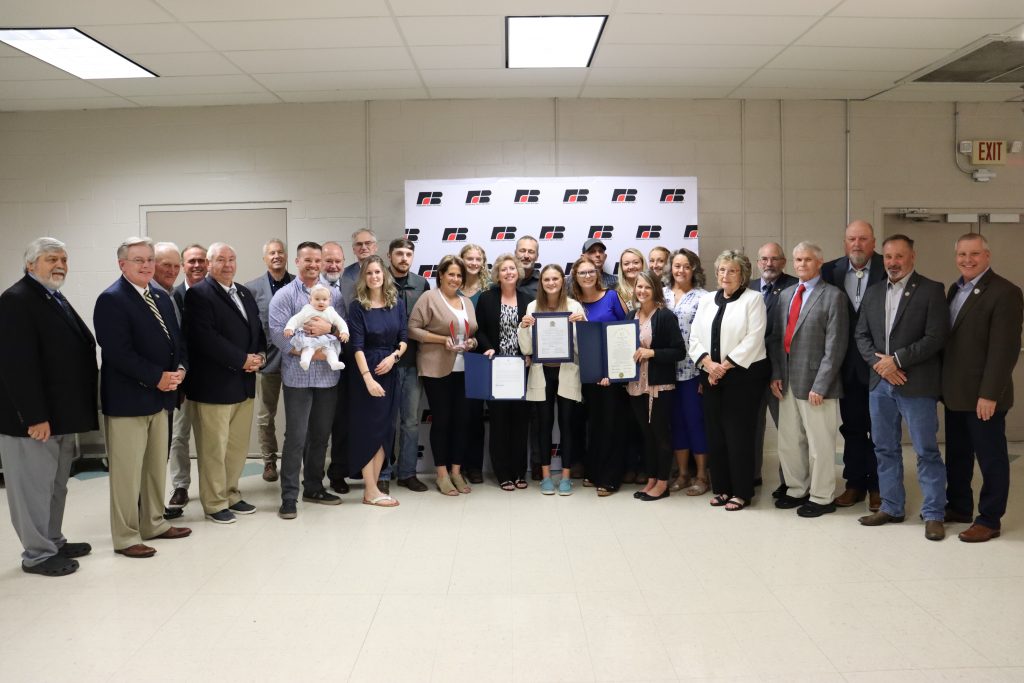 Eugene Dill was awarded the Distinguished Service to Ag award in 2020 but was presented the honor this year, also due to the COVID-19 pandemic.
Eugene "Gene" Dill was born in Wyoming, DE in 1950. He was a graduate of Caesar Rodney High School and an alumnus of Delaware Technical Community College.
Gene was the passionate leader of his wonderful family, as known by his wife, five children and a wealth of grandchildren along with countless others. Surprising no one, his interest in his grandchildren's endeavors exceeded even that which it had been for his children. He genuinely loved caring for and guiding them, standing with them in the show ring, sitting in the stands, and cheering on each of them. He shared his love for his grandchildren continually.
Gene's passion and dedication went beyond his family. He was involved in, and was considered a regional expert and resource in, equestrian matters ranging from the health, care, breeding, training, and showing of many horse breeds, particularly American Quarter Horses, Paints, Appaloosas, and Welsh Ponies.
Deeply involved in his community, he served as a board member and an executive director for the Delaware State Fair, held many positions including president and host to the Eastern Shore Western Horse Show Association, and founded Dill's Auction Service, LLC and Hollering Hill Auction, LLC.
He was a public servant over three decades, retiring from the Delaware Department of Transportation as a Central District supervisor, Delaware State Fair director for two and a half decades; dairy farmer; entrepreneur, auctioneer, accomplished horseman; and former youth leader for Willow Grove Church of God.
Gene was a tireless advocate and patron. He served in many leadership positions, including president of local, statewide, and national organizations within the Horse Associations. He was a member of the Delaware Farm Bureau, Delaware Auctioneer's Association, American Jersey Cattle Association and many more.
He was and will always be special to a countless many here in Delaware and afar.