Legislative Workshop & Tour
Since I became Executive Director, I have worked hard to develop working relationships with all 62 elected members of the Delaware General Assembly. There are 41 members of the House of Representatives and 21 Senators representing the constituents of their districts. Legislative Hall in Dover can be a bustling place when they are in session. New bills are introduced and assigned to the appropriate committees, hearings are held, and then bills which advance from committees are considered on the floor of the House and Senate.
I find Legislative Hall and the process of lawmaking to be fascinating. The issues being debated sometimes touch the lives and businesses of Delaware Farm Bureau members very directly. DEFB engages our Legislative Committee to act as a sounding board as bills come to our attention. While this committee is representative of the entire DEFB membership, it is desirable that all members be engaged and provide grassroots input on their views regarding the issues.
That is why we have scheduled an orientation workshop at Legislative Hall, Nov. 15, 2023, from 8:30 a.m. until 12 noon. The agenda includes a tour of the historic Legislative Hall provided by professional staff from First State Heritage Park. Many DEFB members have never had a chance to tour this building where so much happens that shapes our future, so this is a great opportunity.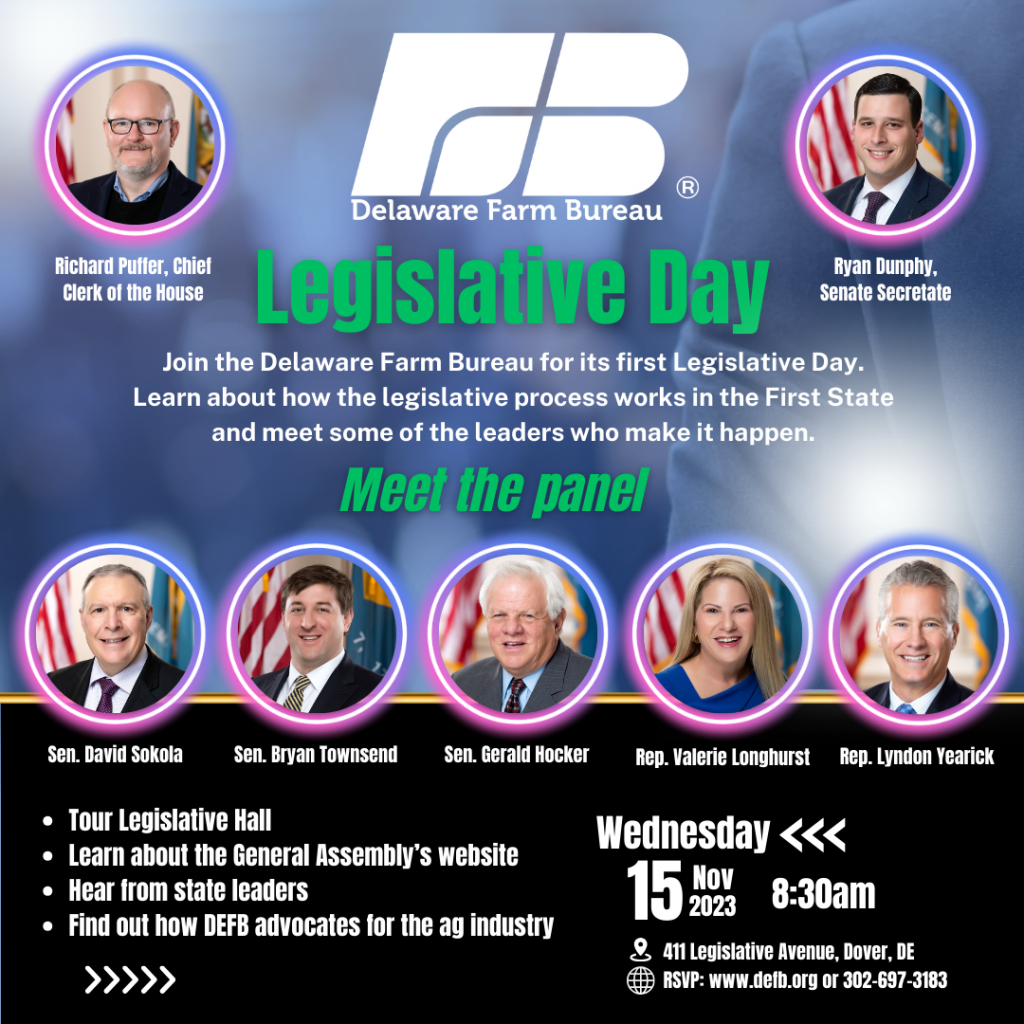 We will also receive an orientation from Richard Puffer, Chief Clerk of the Delaware House of Representatives, and Ryan Dunphy, Secretary of the Delaware State Senate, about their duties in organizing and supporting the legislative process. As part of this segment, a demonstration of how to navigate the Delaware General Assembly website will be provided. I find this site to be indispensable both during session and as a handy reference.
A panel discussion featuring the bi-partisan leadership of the House and Senate will be held mid-morning. Those who have, to date, confirmed their participation include:
Senator David Sokola, Senate President Pro Tempore
Representative Valerie Longhurst, Speaker of the House
Senator Brian Townsend, Senate Majority Leader
Senator Gerald Hocker, Senate Minority Leader
Representative Lyndon Yearick, House Minority Whip
 (For Representative Michael Ramone, House Minority Leader)
These leaders will provide their individual and collective perspectives on how they work together to accomplish the work of the General Assembly. There will also be an opportunity for questions from the DEFB members in attendance. 
Finally, we will present a DEFB 2023 Legislative Report including a compilation of the bills which have been introduced and considered during the first half of the 152nd General Assembly. We will discuss key bills of interest to DEFB and agriculture in general as well as expectations for the session beginning in January 2024. 
This opportunity is one more way DEFB is working to provide greater value to the members who make up this organization. Grassroots legislative advocacy is essential to our survival as a family-centered industry. Please join us on Nov. 15 and learn more about how to make your voice heard.
Please call the State Office at (302)-697-3183 to let us know of your plans to attend. The House Chamber can accommodate 60-80 people for this event, possibly more if we use the upstairs gallery, so don't delay.
Sincerely,
Donald Clifton
Executive Director