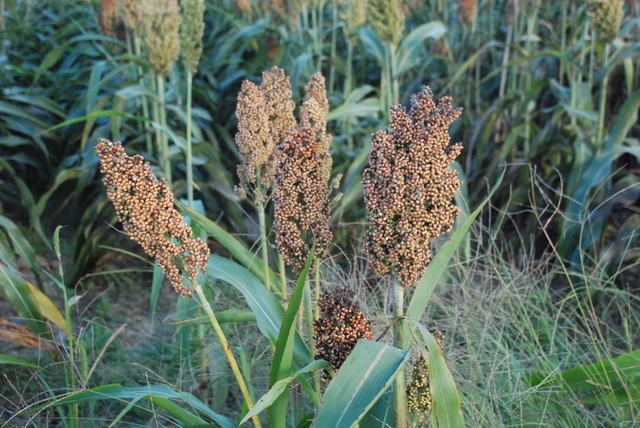 Pop quiz: What crop growing in Delaware starts out looking like corn, but doesn't get as tall and develops large heads of grain that turn bronze to brown in the fall?
The answer is sorghum.
Sorghum is not a widely grown crop in Delaware, but there seems to be more of it in Sussex County this year than in recent years. Sorghum is well suited for dry climates such as Kansas and Texas. In Delaware, it is seen mostly in non-irrigated fields.
Evidence of sorghum has been found in an archeological dig near the Egyptian-Sudanese border dated 8000 B.C.
In 1997, 85 Delaware farms grew sorghum on a total of 4,633 acres, producing 286,741 bushels. By the year 2000, production had dropped to 2,000 acres and from 2001 to 2004, sorghum was harvested on 1,000 acres each year, with yields ranging from 45 to 85 bushels per acre.
In the last available U.S. Census Bureau report (2017), Delaware sorghum production amounted to 30,883 bushels grown on 450 acres. For comparison sake, Delaware corn production that year topped 28 million bushels, produced from 180,000 acres.
Folks from non-farming families who grew up in the South may remember sorghum molasses, a thick, golden syrup with a unique flavor that was used in place of more expensive sweeteners. Molasses is made from the stalks of the sweet sorghum variety, which are crushed like sugarcane.
A promotion board called the United Sorghum Checkoff Program was officially begun in March 2009. As with other promotion boards, producers are assessed a small percentage of net value with every sale.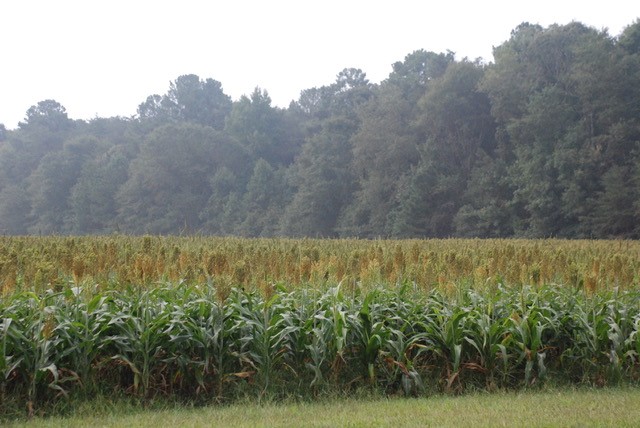 According to the checkoff program's website, www.sorghumcheckoff.com, "sorghum is one of the top five cereal crops in the world. The United States is the world's largest producer of grain sorghum, having produced 480 million bushels in 2016."
Furthermore, "sorghum is among the most efficient crops in conversion of solar energy and use of water and is known as a high-energy, drought tolerant crop that is environmentally friendly. Due to sorghum's wide uses and adaptation, 'sorghum is one of the really indispensable crops' required for the survival of humankind (From Jack Harlan, 1971)."
There are several species and varieties, each suitable for different uses. Sweet sorghum is used not only in molasses but as a healthy alternative sweetener to produce whiskey and rum type products and for biofuel and chemical production.
Sorghum can be used for grazing pasture, hay production, silage and green-chop. Forage sorghum typically grows 8 to 15 feet tall and is most popular for use as silage for feeding livestock.
Biomass sorghum has the largest stature of all the sorghum varieties, reaching a height of 20 feet in a normal growing season. Biomass sorghum has been bred to produce a large amount of non-grain biomass. These hybrids are used primarily for the production of bioenergy.
Surprisingly, The consumer food industry is a growing marketplace for sorghum. Sorghum can also be used as a grain or ground into a gluten-free flour. Since it has no gluten, it requires a binding agent such as xanthan gum or cornstarch in some recipes.
Sorghum can be popped like popcorn, cooked into a risotto (see http://eatingappalachia.com/2010/02/02/sorghum-risotto/) or cooked and cooled for a salad. The grain has a lightly sweet and nutty flavor with a texture, when cooked, similar to a cooked wheat berry.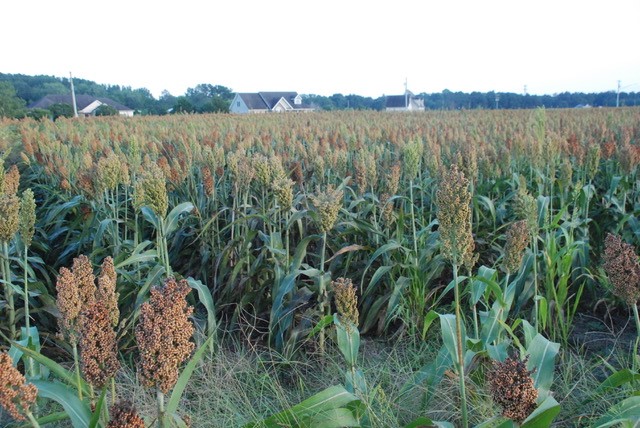 A recent article in Huffington Post mentions use of sorghum in recipes such as Garlic Green Beans with Sorghum Salad, Sorghum Buttermilk Pancakes with Whipped Coconut Cream, Gingerbread Beer Bundt Cake with Chocolate Glaze, Rye Crepes with Sorghum Bourbon Strawberries and Roasted Cherry Tomato, Arugula and Sorghum Salad.
Basically, the grain should be rinsed and placed in a sauce pan with a little salt and enough water to cover by 2 inches or more. Bring it to a boil, reduce to medium heat and cook until the sorghum is tender but still chewy, about 45 to 55 minutes. If water level gets low, add more.
When done, drain and use in your recipe.
Sorghum is also used in building materials, fencing, floral arrangements, pet food, brooms and more.