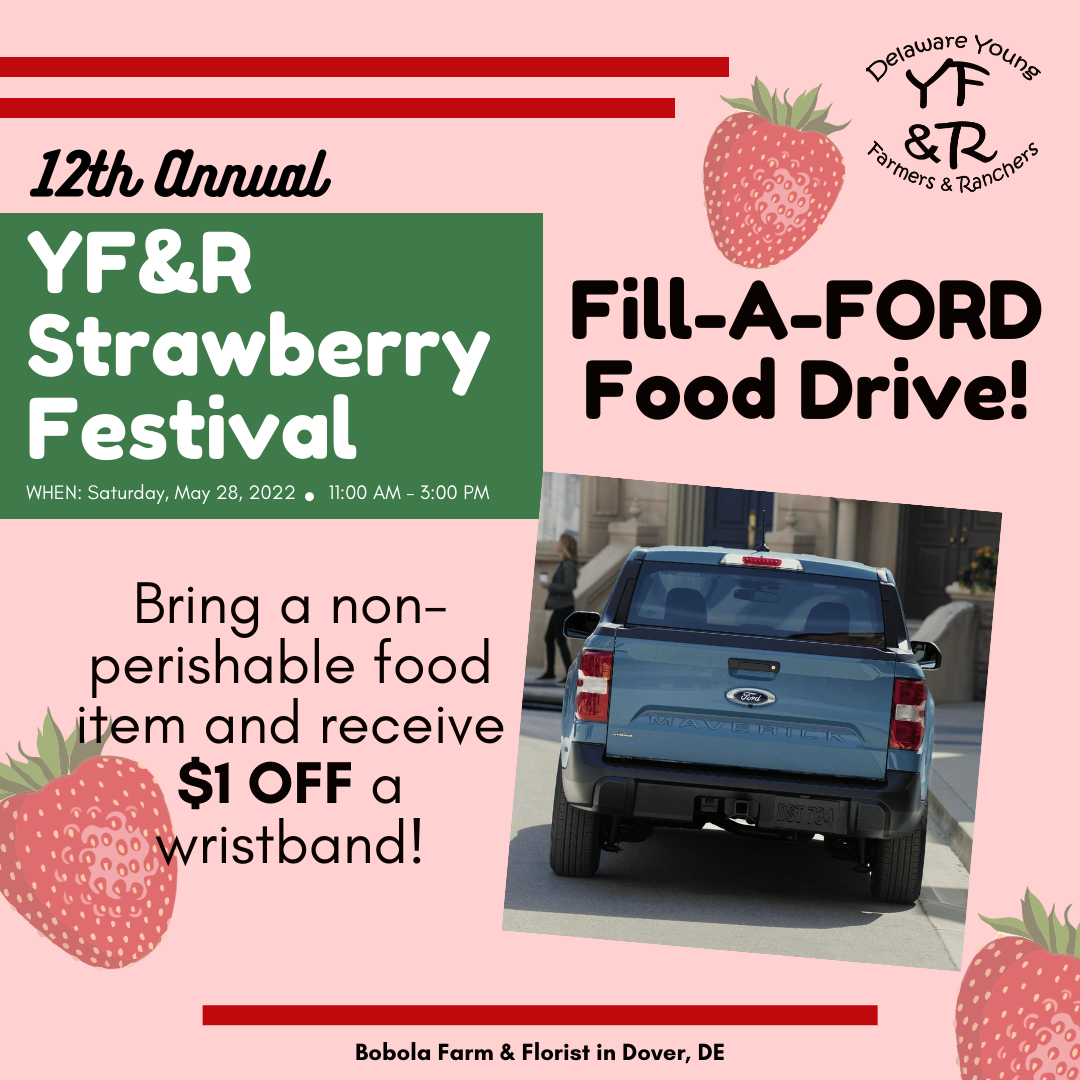 Delaware's state fruit will be on display Saturday, May 28 as Young Farmers & Ranchers raise money for scholarships and leadership opportunities.
The annual Strawberry Festival run by Delaware Farm Bureau's YF&R Committee features a fun-zone for children, u-pick strawberries, face painting, the DEFB Foundation's Mobile Ag Lab, a petting zoo and interactive activities along with a concession stand offered by the YF&R complete with pulled pork sandwiches and strawberry shortcake.
The fundraiser will be hosted at Bobola Farm & Florist located at 5268 Forrest Avenue in Dover from 11 a.m. until 3 p.m. Wristbands for the fun zone are $6 each. Attendees can save one dollar on wristbands by bringing a canned good the day of the event to help Fill-a-Ford. A Ford truck has been donated for the day by Willis Ford of Smyrna for this event.
"This year, we're working with the food bank, too. The national YF&R has a program called Harvest for All so that's why we're doing this. We want to help farmers feed other people by donating to the two things – money and food donations," state YF&R Chair Mollie Lynch said.
Ultimately, the committee hopes to raise funds for the YF&R's yearly operations and its two scholarships. Funding for these offerings traditionally comes from events like the Strawberry Festival and annual Antique Tractor Pull which will be held Saturday, July 30 at the Delaware State Fair.
"The Strawberry Festival helps fund the YF&R," she said. "It helps fund the leadership conference every year. We have a lot of kids who are in college or are just starting families, so money is a little tighter. This event allows us to work for our conference money; we take pride in that. WE also donate a lot of money to other causes throughout the year."
Lynch said that future members aged 18-40 do not have to work in agriculture to qualify for membership; a passion for agriculture will suffice.
"The YF&R is a great group. We're very pro-agriculture. It's nice to have a group of people your age to be able to bounce ideas off of and kind of share your struggles within the farming industry, especially what we've been going through in recent years. You make friends in the YF&R that you'll have for a lifetime," she added.
For more information, visit defb.org.