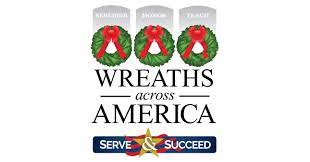 The Delaware Farm Bureau Women's Committee will be volunteering at the Delaware Veterans Memorial Cemetery in Millsboro Saturday, Dec. 16, as a sponsorship group for the Wreaths Across America program. 
Wreaths can be purchased ahead of time for $17 each through the Women's Committee who will receive a portion of the proceeds and will be on site on National Wreaths Across America Day to help place the wreaths on gravesites in Millsboro.
Although they will volunteer at the Delaware Veterans Memorial Cemetary, wreaths can be also purchased in memory of a deceased veteran at any cemetary or in honor of a living hero — wreaths purchased in honor of a hero will be placed on gravesites not yet sponsored.
According to Wreaths Across America, "2.7 million veterans' wreaths were placed in total across the country at 3,702 participating locations. More than two million volunteers helped place wreaths, a third of whom were children."
To purchase a wreath through the Women's Committee or to volunteer on National Wreaths Across American Day, contact Sussex County Chair Connie Fox or the DEFB state office at 302-697-3183.
Wreath sponsorships can also be reserved online through the Women's Committee by visiting https://wreathsacrossamerica.org/DE0079P.