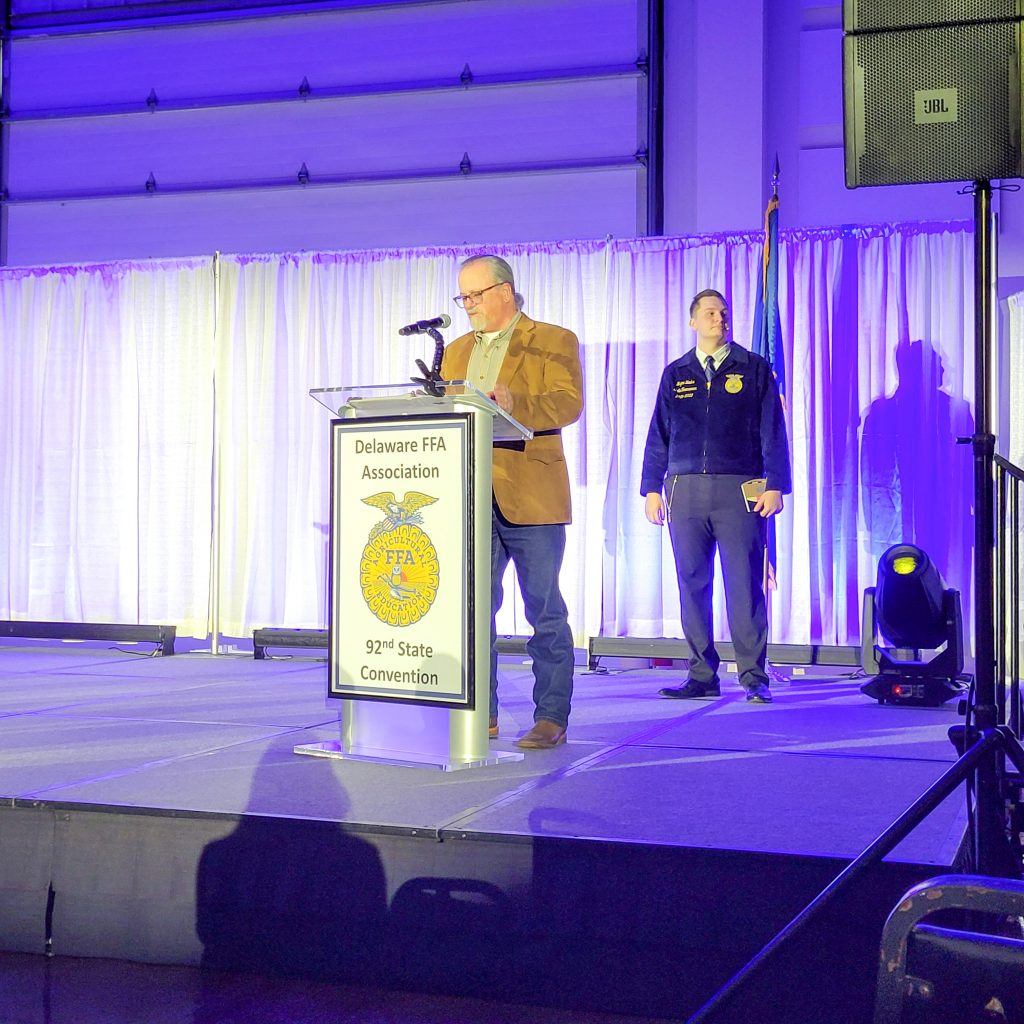 Nearly 50 students received a once in a lifetime gift during the 92nd Delaware FFA State Convention thanks to support from the Delaware Farm Bureau.
    The organization has sponsored the Blue Jacket Bonanza in the First State since 2015, offering individualized blue corduroy FFA jackets to students in need. Students must apply prior to receiving a jacket, have a history of community service activities and leadership skills, and display a commitment to the FFA program. Jackets are then ordered to size and embroidered to include the recipient's name and local FFA chapter.
    Bill Powers, 2nd vice president for the Delaware Farm Bureau, was on hand during the convention to help pass out jackets to 47 students this year. He called the experience an honor and detailed his own time with the Delaware FFA as a greenhand and eventually a state officer from 1976-1977 along with Delaware Farm Bureau's current President Richard Wilkins.
    "The blue corduroy jacket means a lot to an FFA member," Delaware FFA State Treasurer Bryce Banks said during the presentation at the annual convention. "I know personally, the first time I put on an FFA jacket was a moment that made me feel as special as a TikTok influencer. This is such a special moment in an FFA member's journey."
    Students were recognized by name during the event as Powers helped with the ceremony.
    "When you receive your first blue jacket, your very own blue jacket, it's an amazing thing to feel," former recipient Elizabeth Houseman of Sussex Central FFA said. "So, when you receive your very first one, just remember that you earned this blue jacket and that every single one of us are so proud of everything you've accomplished to this point because this is the first step in your FFA story."
    The following students, listed by school, were awarded FFA jackets in 2022 through the Blue Jacket Bonanza program offered by the Delaware Farm Bureau: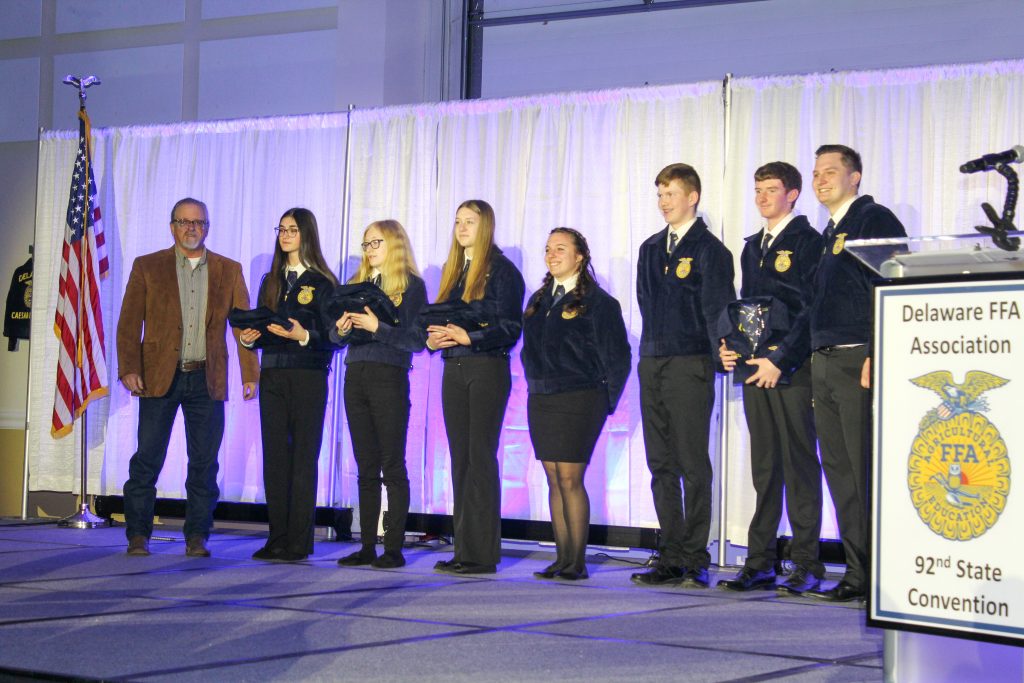 Lake Forest High School
Margo Stewart; Mylee Wilkie; and Elora Kline.
William Penn High School
Brena Rose; Darrick Walker; and Elian Gonzalez-Conde.
Odessa High School
Kalena Diaz; Marissa Wolf; and Jackson Wills.
Sussex Central High School
Elizabeth Wurst; Case Lawson; Elias Perez; Garney Hall; Payton Jones; and Jasmine Hastings.
Middletown High School
Sofia Torres; Simone Cooper; Eamon Rush; Ayanna Gaston; and Valli Parvataneni.
Milford High School
Elizabeth Geyer; Sabrina Kadow; Mikayla Hinson; Tabitha Lenhart; Austin Burgholzer; and Jacob Wilkins.
Smyrna High School
Taylor Wallace; William Stephens; Ethan Satterfield; Colleen Nicholson; Kenidie Long; Gabriella Lamborn; Darren Jester; Geneva Catts; Nathan Roscoe; Kayla Love; and Vincent Chas.
Woodbridge High School
Brianna West; and Natalie McFarland.
Appoquinimick High School
Sarah McCormick; Moira Nanga; Kolin Kaiser; Alayna Christman; Ryan Franco; and Riley Zurzola.
Caesar Rodney High School
Karley White; and Kaidence Wood.
For more information on programs offered by the Delaware Farm Bureau, visit www.defb.org.