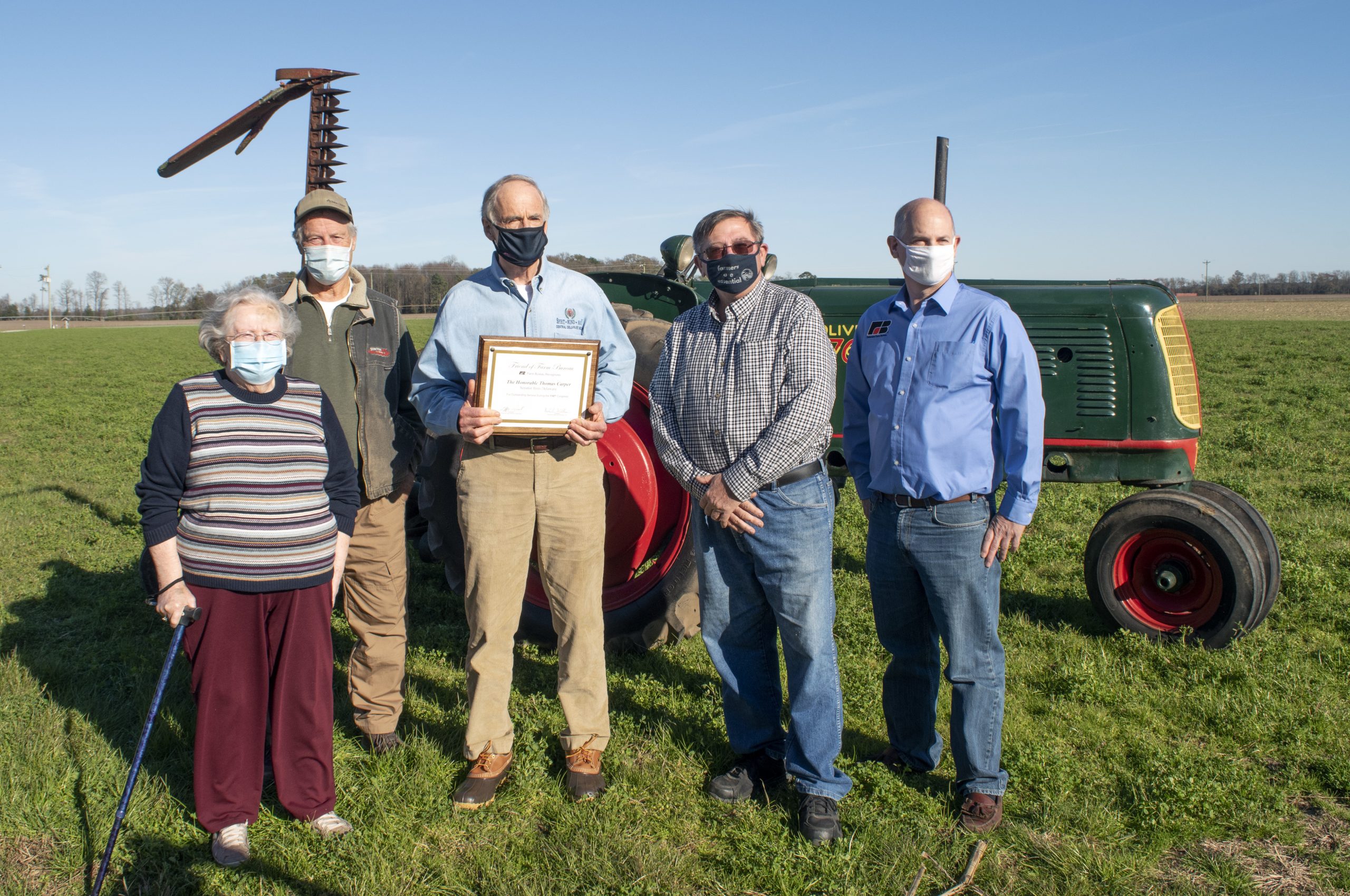 U.S. Senator Tom Carper (D-Del.) was honored with the Friend of Farm Bureau Award Friday afternoon in recognition of his legislative support of American farmers and ranchers.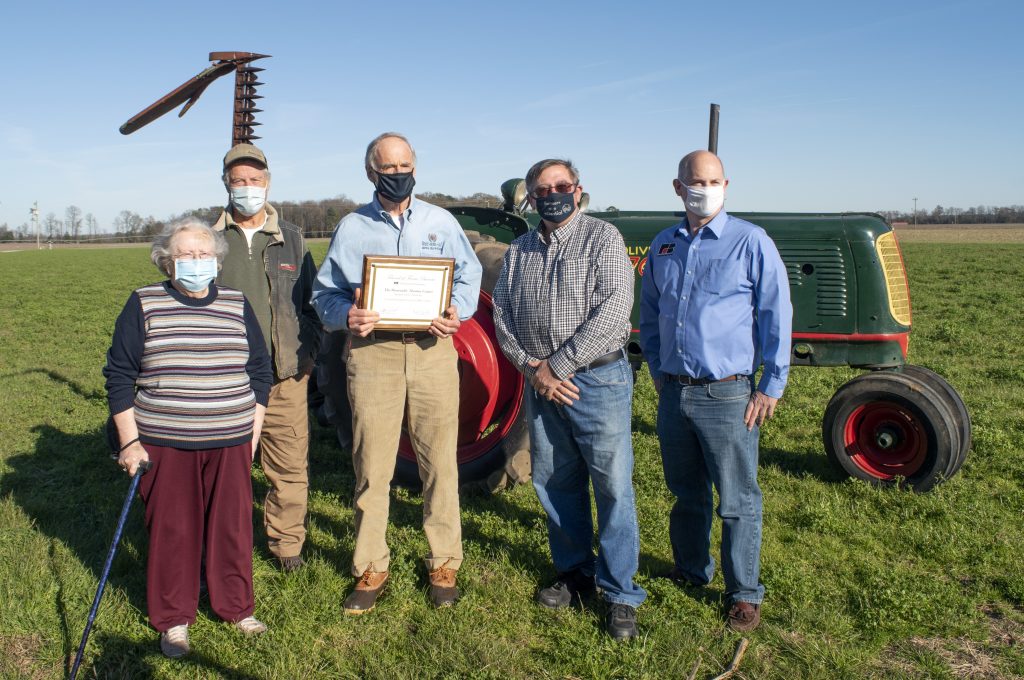 The award, offered by the American Farm Bureau Federation, was presented by Delaware Farm Bureau Board President Richard Wilkins at Stayton Farm in Houston. The family farm is now operated by Delaware Farm Bureau Member and Delaware Agriculture Museum President Grier Stayton. They primarily produce corn, soybeans and hay from 200 of its 300 acres, but Stayton also practices cover crops plantings, permanent cover plantings, filter strips along ditches, irrigation with water management practices and crop species diversity. He practices woodland management on the remaining 100 acres of his farm.
Stayton and his mother, Anna Grier Stayton, used a tractor purchased the same year the senator was born as a staging area for the presentation.
"Delaware may be a small state, but we sure punch above our weight when it comes to agriculture, and that is all thanks to the tireless work of our farmers. They fuel our economy, keep our families fed and show us every day how to be good stewards of the land that we all call home. We're also so grateful for the hard-working men and women who support the agriculture industry and are great collaborators on legislation and policies that help keep this industry thriving here in Delaware," Sen. Carper said. "I'm honored to work with our growers and producers on putting in place smart policies that provide stability, while also supporting trade and conservation practices. Thank you to Richard and to the Farm Bureau members for recognizing the work we do together to ensure our nation's farmers – especially the 2,300 family farmers here in the First State – can continue to do the critical work they do and stay in business for generations to come."
The Friend of Farm Bureau Award is presented to selected members of the United States Congress every two years in honor of their congressional voting record in support of Farm Bureau positions on policy issues. They must be nominated by their state Farm Bureau in order to be considered by the national organization for the award. Congressional members nominated then need to be approved by the AFBF Board of Directors before the award can be presented.
In Delaware, Wilkins says both Sen. Carper and U.S. Senator Chris Coons (D-Del.) fit the bill. Sen. Coons will be presented with the same award Monday, Nov. 23 from the Delaware Farm Bureau office in Camden.
"Throughout his career of public service, Sen. Carper has sought input from farmer leaders on how they would be impacted by public policy decisions. He has always looked for solutions that are fair and reasonable. Sen. Carper has the utmost respect of the hard-working families that make America nutritionally secure," Wilkins said.
During the most recent 116th congressional session, for example, Sen. Carper cosponsored Senate Bill 3797, or the Small Packer Overtime and Holiday Fee Relief for COVID-19 Act of 2020. Supported by AFBF, the bill was designed to aid farmers and ranchers during the pandemic.
Sen. Carper also supported Senate Bill 3548, the CARES Act, earlier this year which allowed for $16 billion in direct payments to be given to farmers and ranchers dealing with unprecedented financial difficulties as a result of the pandemic, among other relief measures.
Throughout the pandemic, Sen. Carper spent time visiting farms in Delaware and discussing the needs of farmers, their families and their workers with leaders at all levels in hopes of creating a better situation for agriculture producers.
Additionally, he advocated for the United States to include poultry industry in trade agreements to ensure farmers all over the country could continue using trade as a vehicle for revenue.
Sen. Carper joins a host of other past and current congressional members who have been presented with the Friend of Farm Bureau Award for their legislative service to the industry since the honor began in September 1996.
Visit the Delaware Farm Bureau online at defb.org or the American Farm Bureau Federation at fb.org.