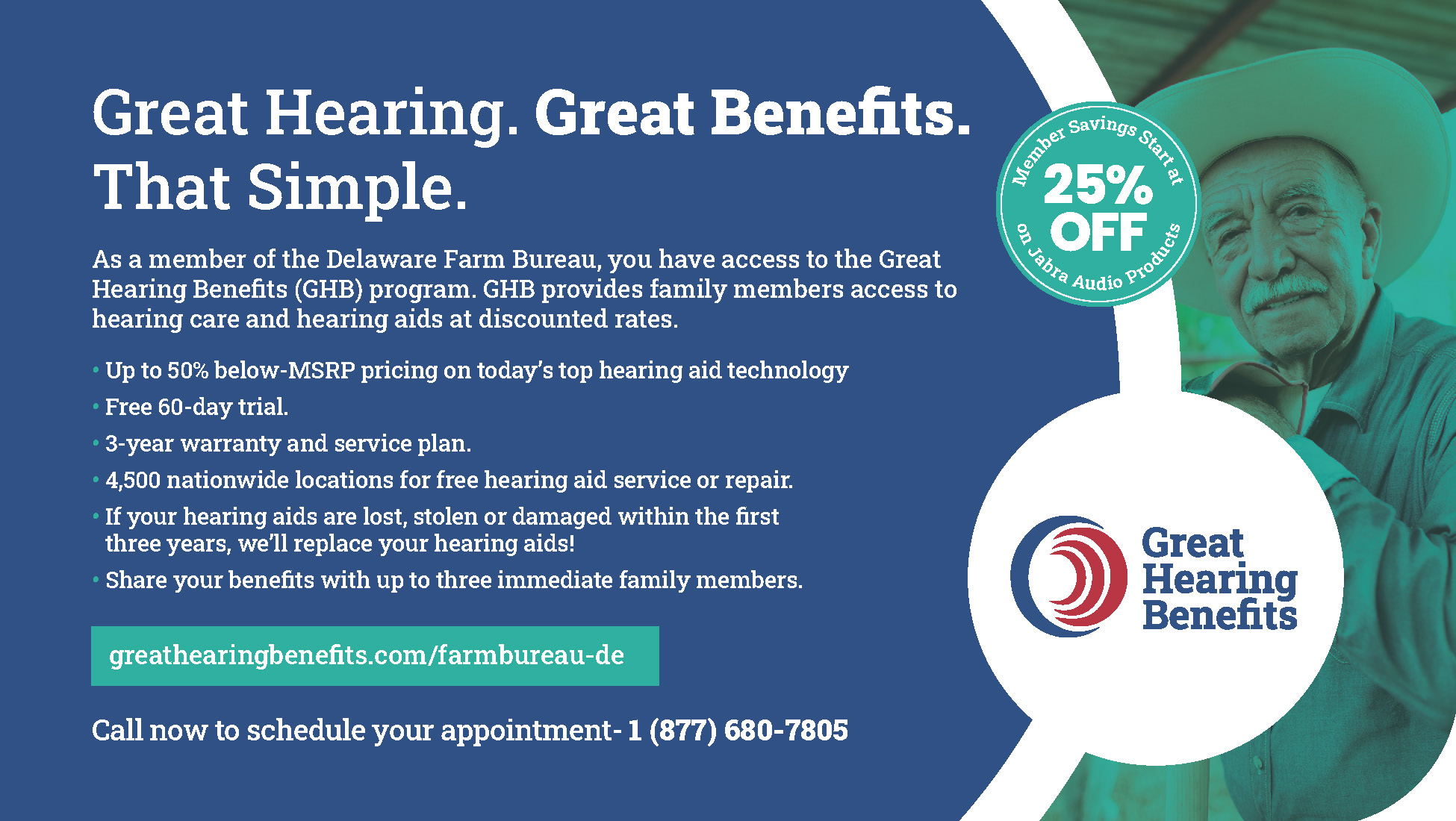 Delaware Farm Bureau members and up to three immediate family members can now receive discounts on communication and hearing technology, service plans and more thanks to a collaboration with Great Hearing Benefits.
Great Hearing Benefits works to improve hearing health, which is essential to overall health. Thousands of credentialed hearing care professionals participate in the nationwide network, providing the latest technology with affordable pricing, award-winning care, and record-breaking patient satisfaction.
Occupational hearing loss is a prevalent problem found on farms throughout the United States, among other sources of hearing loss, according to top industry experts.
Hearing loss can sound different for every person. Some key indicators include:
Difficulty understanding words, especially in crowded or noisy situations.
Hearing muffled speech or often needing to turn up the TV volume, and
Frequently asking people to speak more slowly and clearly.
Delaware Farm Bureau members and their immediate family members who think they've experienced hearing loss can now reach out to Great Hearing Benefits to schedule an evaluation with any of the professionals available at one of its 5,200 nationwide locations.
From there, the hearing evaluation will include a health and lifestyle history review, an audiogram to determine hearing loss, a review of the evaluation and a recommendation for a hearing solution if needed with no obligation to the member to purchase recommended products.
Members can learn more about this membership benefit by calling 1-877-680-7805 or visiting https://defb.org/membership/member-benefits-2/.
About Great Hearing Benefits
Great Hearing Benefits understands firsthand how frustrating navigating the world of hearing loss can be. We are changing the way hearing health is viewed, making it simple, accessible, and affordable to everyone. Great Hearing Benefits works with health plans, employers and unions to improve hearing health, which is essential to overall health. We're comprised of thousands of credentialed hearing care professionals in our nationwide network, including online options that offer top-of-the-line care and patient satisfaction. Our programs offer savings on award-winning audio solutions and hearing aid products to fit all lifestyles and needs.
Visit www.greathearingbenefits.com to learn more.