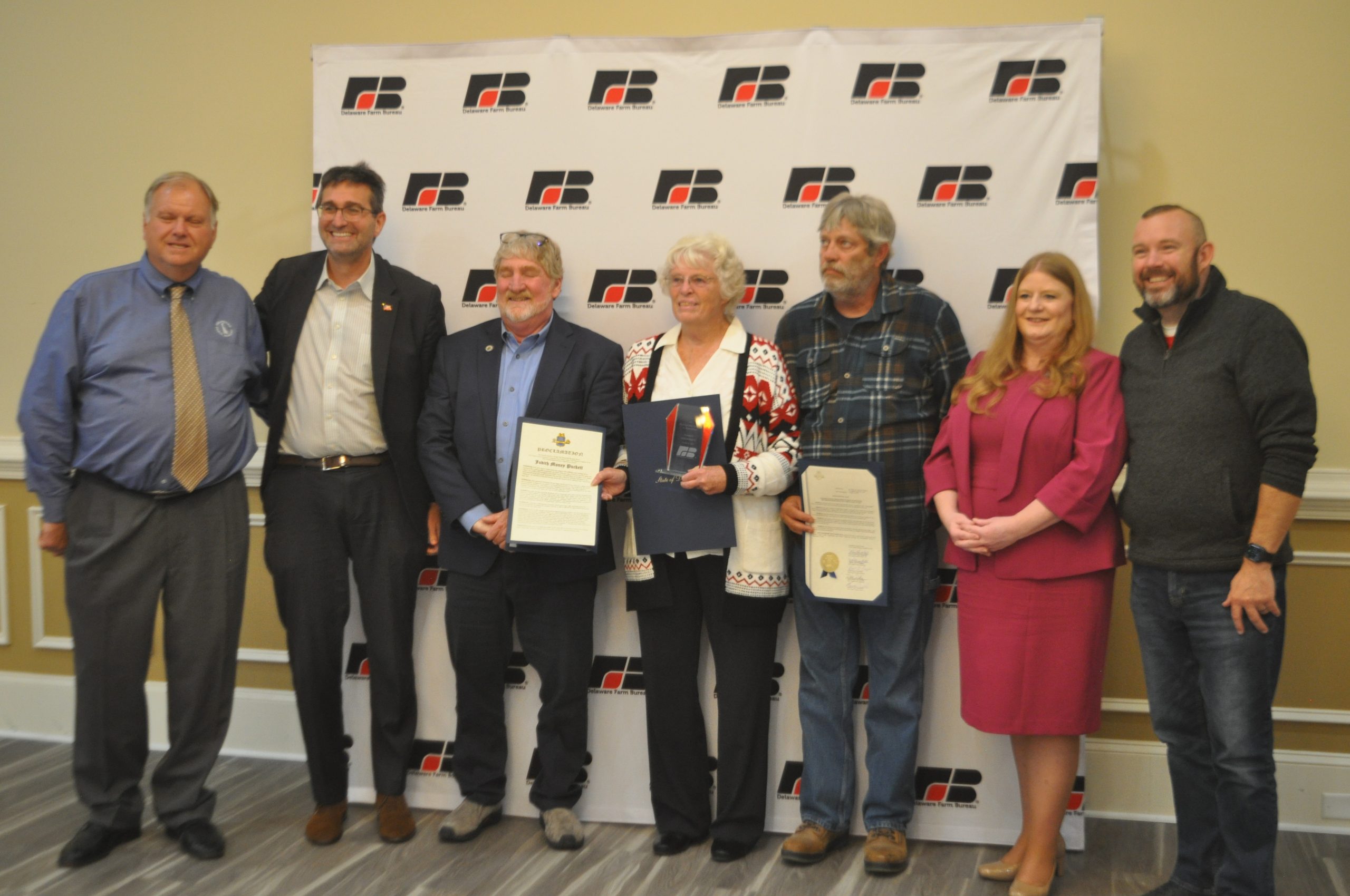 The William Phipps Family and Judith Puckett were among those honored Monday night, Oct. 9, at Townsend Fire Hall by the New Castle County Farm Bureau.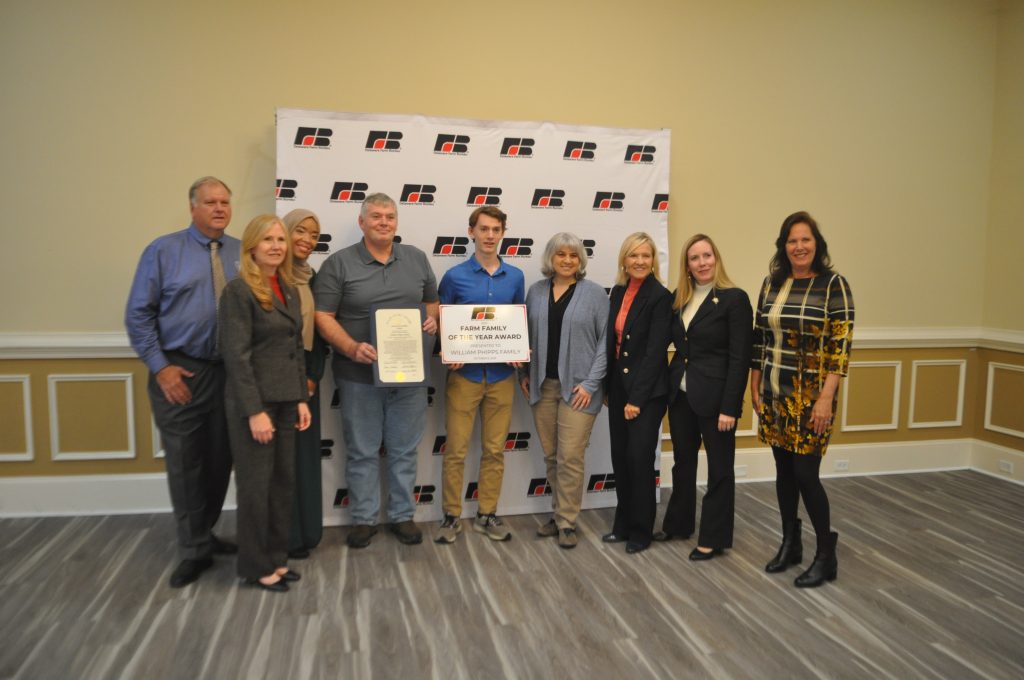 William Phipps Family – 2023 New Castle County Farm Family of the Year
William Phipps and his family are this year's New Castle County Farm Family of the Year recipients.
He grew up on the family farm where they raised Holsteins until the dairy operation was transferred to his sister when their father passed away. Knowing he wanted to continue farming, as well, he purchased two lots from the previous farm and started brainstorming ways to utilize the smaller space.
Phipps and his wife Robina started out with horses and goats before transitioning to Dorper Sheep. They created Centre Del Farm Dorpers in 2013 and have grown and improved the flock ever since.
The Dorper breed was introduced to the United States in 1995, not long before the Phipps started their Dorper farm. Dorper hair sheep was a perfect fit for the family since they could be raised on small acreage, are relatively low maintenance and could be managed by the family while they continued to work full-time jobs.
They expanded their flock and space in 2016 by purchasing more property; their flock now ranges between 70 to 140 sheep depending on the time of year.
Throughout the year, the family travels to compete nationally at shows such as the North American International Livestock Exposition, the Dorper National Show and Sale in Duncan, Oklahoma and Cookeville, Tennessee. In 2020, the Phipps family had a record setting ram at one of the National Dorper Show and Sales and had both the Grand and Reserve Champion Rams. In 2021, the family held the high selling and Grand Champion ram at the 2021 Cookeville, Tennessee sale under South African judges.
Attending these shows gives the family the opportunity to teach others about agriculture in Delaware. This exposure helps put Delaware on the map as an area of quality livestock that is easily accessible from many areas of the Northeast.
Phipps holds an undergraduate degree in Dairy and Animal Science and holds a junior and senior Dorper course certificate. Despite working a full-time job, Will spends a lot of time caring for the Centre Del Farm Dorpers flock. He evaluates the herd, feeds and rotates the flock, and acts as a large part of the general maintenance around the farm. From fencing to mucking stalls to seeding the pasture, he is the man that runs the show.
His wife Robina has an undergraduate degree in Agricultural Business Management. Aside from her full-time job at Constellation, Robina also helps out with the livestock. Her biggest role around the farm is making sure the sheep don't take over the house. She helps with moving hay, cleaning stalls and water buckets, and is especially helpful when lambing season comes around.
Their daughter, Sydney, is a freshman pursuing Veterinary and Biomedical Science at Pennsylvania State University and holds a junior Dorper course certification. Before heading off to college, she played a key role in evaluating and maintaining the flock, as well as served as a key sounding board in breeding and sales decisions. Her main chores include shearing off the baby coats of lambs in the spring, slick shearing before every show, halter breaking, helping trim hooves, clean stalls, and more. Sydney has served as the president for her 4-H club, the New Castle County Sheep Club, for the past 5 years and is also a New Castle County Farm Bureau Women's Committee Scholarship recipient this year.
Their son, Liam, is starting his Junior year at the Charter School of Wilmington. He is the general handyman, video editor and shot record keeper. He will soon take over many of his sister's responsibilities as she heads to college.
Like their parents, Sydney and Liam have taken to the idea of educating the public about agriculture and Dorper sheep, helping their peers learn more through 4-H and educational events during school.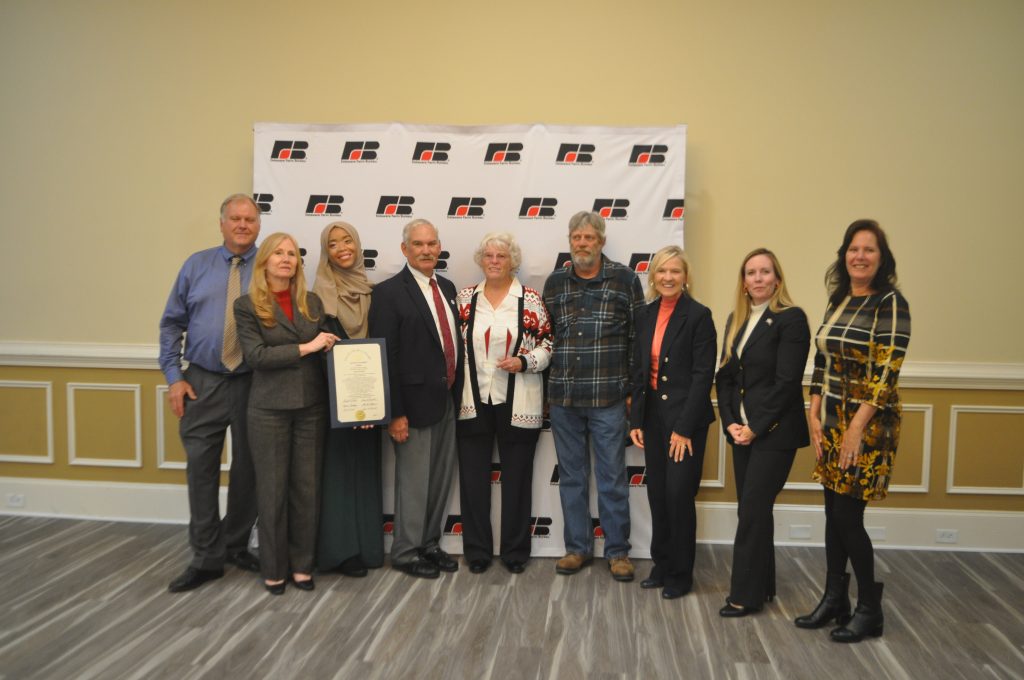 Judith Puckett – 2023 New Castle County Distinguished Service to Agriculture
The New Castle County Farm Bureau is proud to announce this year's NCC Distinguished Service to Agriculture recipient – Judith "Money" Puckett.
She grew up on a farm with her brothers where she helped with milking cows, feeding calves, cleaning stalls, washing milk equipment, etc. Her own first cow was a Guernsey named Alice.
She spent her childhood years in the Cecil County 4-H club raising calves and showing cows at the local fairs. She was also a Brownie Girl Scout and later belonged to the Mariners which is an extension of the Girl Scouts where she learned about sailing on the Chesapeake Bay.
Judy graduated from Bohemia Manor High School and Goldey Beacom College, successfully completing a one-year Commercial Business Course. She worked for the News Journal and the Delaware State News in classifieds, and at Johnson Controls as a production control manager. But her real love is farming where she says "you can be your own boss" and every day is a new experience.
Puckett and her husband, Medford, live in Warwick, MD. She now raises Black Angus cattle and her brother, Cooper, along with her son, Darrell, help. She also raises a few chickens. The family also grows corn, soybeans, and has a straw business.
In addition to the farming business, Puckett also owns and operates a very successful business known as the "Bolts and Nuts Depot." Her business serves many customers in Delaware, Maryland, Pennsylvania, and New Jersey.
Although she suffered a lightning strike in her early 30s while in the milking barn of her family farm, Puckett continues to do what she loves. She can often be found baking cakes for 4-H fundraisers to help fund projects and she spends a lot of her time as a volunteer for the Kent County Maryland 4-H Fair and Delaware State Fair. She often works as a 'herdsman,' helping the children with their livestock projects. She teaches them about the presentation of their animals in the shows and the general welfare and well-being of their animals while at the fair.
Puckett belongs to and supports three Farm Bureaus: Delaware, Maryland, and Virginia. As an active volunteer in Delaware, she has served as a delegate to the DEFB annual meeting several times. She also donates to and supports antique tractor pulls in Delaware and Maryland.