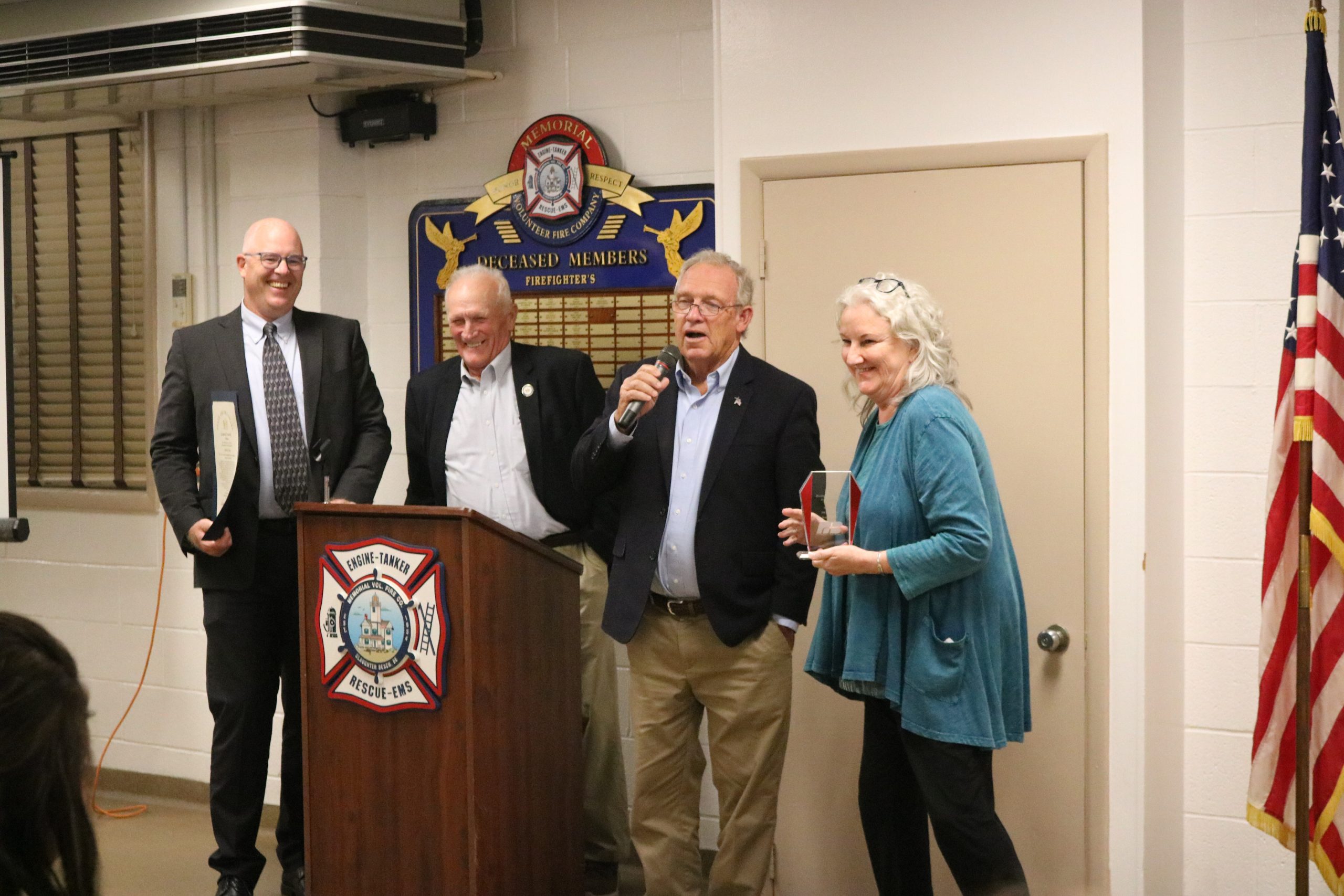 The Sussex County Farm Bureau recognized several top honors Saturday, Oct. 7 at Memorial Volunteer Fire Department. A statewide winner will be announced during the Delaware Farm Bureau's annual banquet in December.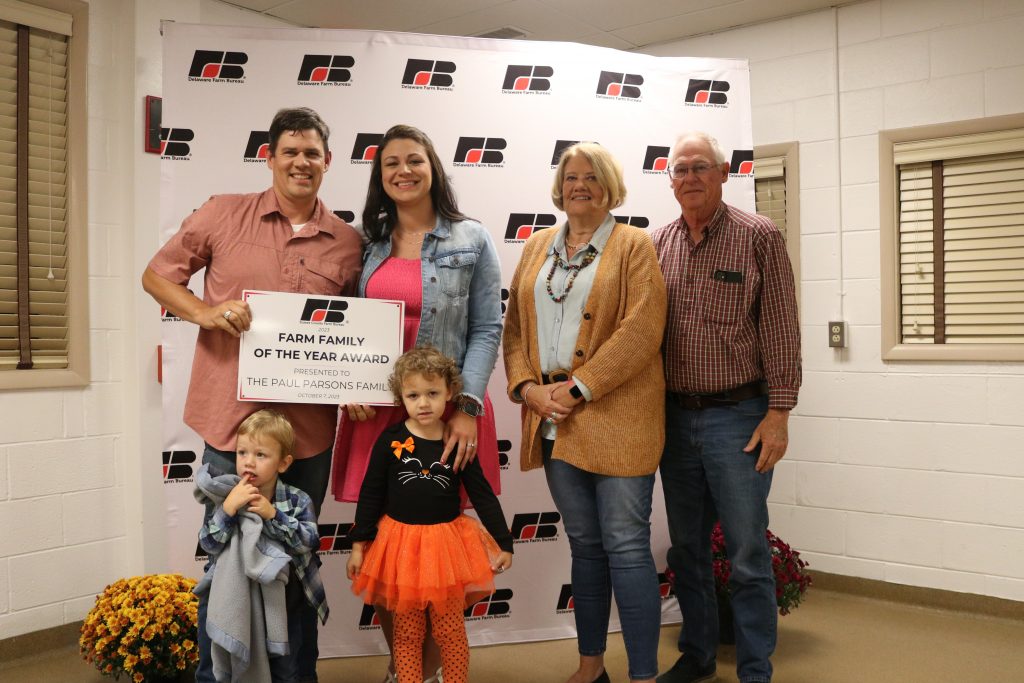 Paul Parsons Family – 2023 Sussex County Farm Family of the Year
Paul Parsons and his family in Dagsboro were honored as this year's Sussex County Farm Family of the Year by the Sussex County Farm Bureau. 
He started his farm business at the age of 10 on the side of the road with a simple card stand and umbrella in 1989. It has now grown into one of the largest agritourism businesses in the county offering agritourism activities such as fall festivities, field trip opportunities year round, U-pick fields in the summer and Christmas trees in the winter. The farm has grown to include almost 250 acres, a farm store and a cafe.
The farm store is surrounded by fields of blueberries, pumpkins, peaches, apples, corn, strawberries and livestock, offering a peaceful reminder of farm life in a family-fun environment in the middle of the beachside bustle.
Parsons also focuses his time on bringing ag to the larger community and helping build a community of farmers in the area. He often sells baked goods and other products that are locally made or grown in his store front. He became a member of the Farm Bureau which has also helped him associate with other farmers through networking and by having a voice in legislation.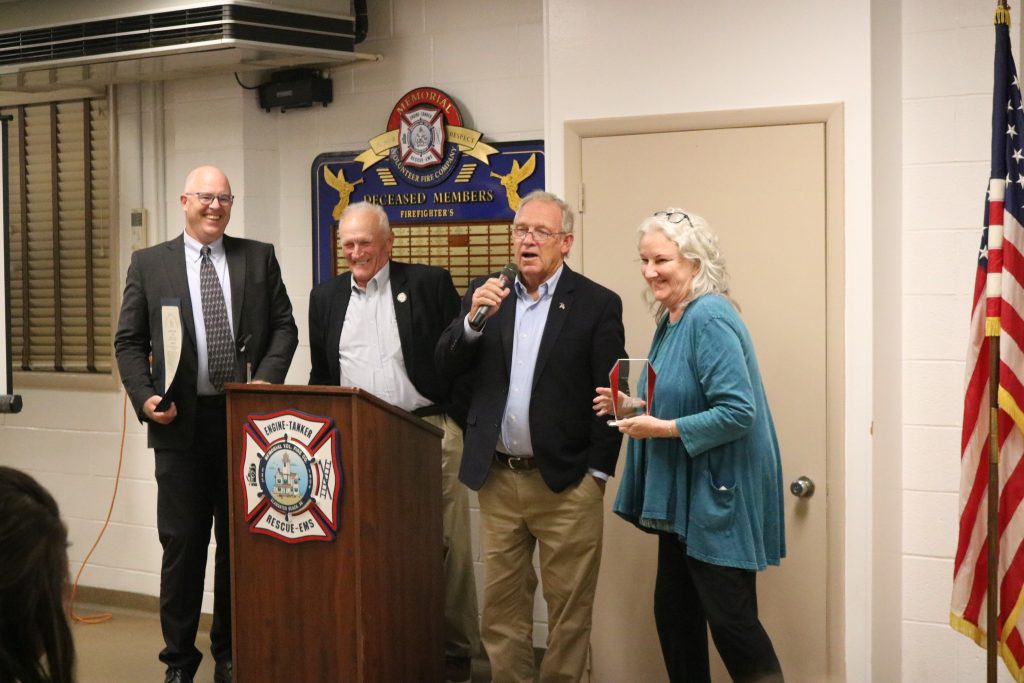 Jackie King – 2023 Sussex County Distinguished Service to Ag
Jackie King of King Crop Insurance in Georgetown was awarded as this year's Sussex County Distinguished Service to Agriculture honoree.
She has proven her dedication to agriculture and the Delaware Farm Bureau over the years and continued to learn through family members, neighbors and agricultural leaders.
After growing up on a family farm in Laurel and graduating with a degree in Agribusiness Management from the University of Delaware, she wanted to get into the crop insurance business with her mother who had run a crop insurance business since 1967. But she had to learn more about agribusiness before jumping into the family business.
Over the years, she had many mentors that helped guide her and shape her future experiences like her high school ag teacher Willis Kirk and then-extension agent Ed Kee at the Georgetown Research Farm. She also gained experience by working as a crop insurance agent recruiter, a processor at the Winston-Salem, North Carolina, regional office and a loss adjuster in the Northeast. Finally, with her mother's full support, she joined King Crop Insurance, Inc. in 1987.
Thirty-six years later, she is still advocating for farmers on Delmarva and is an active member and volunteer with the Delaware Farm Bureau.
King received the 1988 Outstanding Service Award from the National Association of Crop Insurance Agents (NACIA), the Delaware Farm Bureau Distinguished Service to Agriculture in 2000, Appreciation Award from RCIS for service on the National Agents Advisory Council, and countless Outstanding Achievement Awards from RCIS, just to name a few.
Her involvement in agriculture does not stop at her work. She supports the Delaware FFA and 4-H organizations, and currently serves on both the DEFB Foundation Board of Directors and the DEFB Promotion and Education Committee
In the past, she has been instrumental in assisting in the success of several agricultural promotion ventures including parade floats and exhibiting at Farm & Family Field Day. She spent numerous years as the secretary and treasurer for the Sussex County Farm Bureau, as well.
King says she is proud to be an advocate for farmers so farming can remain profitable while making food affordable and safe. Being involved in the Delaware agricultural community is a lifestyle and it's the people that make everyday worth it, she adds. Recently, King and her sisters have created the King Foundation of Sussex. This project captures audio and video stories of legacies in Sussex County farms to share the farming story with the public.
Along with her husband, Kevin Rogers, she resides in Rehoboth Beach, Delaware, and Jamesville, Virginia. When she's not working or advocating for farming, she can often be seen with her sisters Nancy, Bonny, and Donna or cheering for the Baltimore Orioles and Dallas Cowboys.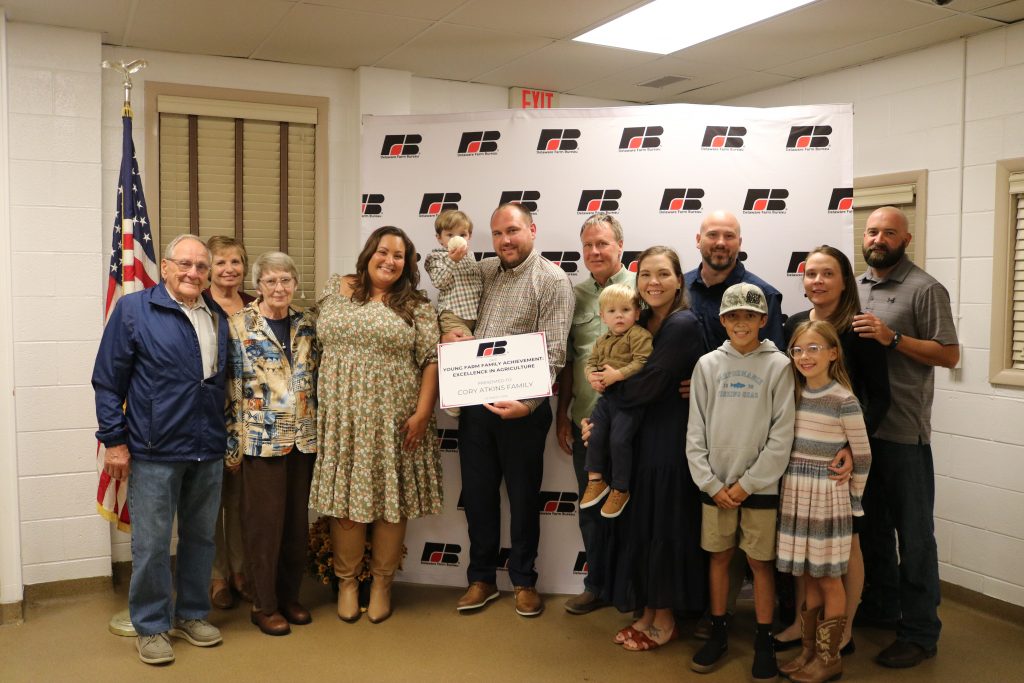 Cory Atkins – 2023 Sussex County Young Farm Family Achievement: Excellence in Agriculture
The Sussex County Farm Bureau is proud to announce its first Young Farm Family Achievement: Excellence in Agriculture recipient: Cory Atkins.
Atkins' passion for agriculture began at a young age. With the help of his father, Rudy, he started from scratch and sold produce grown in his garden at a stand at the end of their lane at ten or 11-years-old. Eventually, his little produce stand turned into 600 acres of corn, soybeans, green peas, snap beans, and lima beans in addition to several hundred acres of custom work. His real passion is growing vegetables and has grown squash, watermelons, and various other crops.
With all the challenges facing him as a first-generation farmer, Atkins never let them dull his passion for the love of the land and the desire to be a successful farmer. The most important and valuable thing he needed was advice and guidance from his mentors, friends, family, and colleagues. One of the things that makes this young farmer special is his desire to learn more every day.
He graduated from Delaware Technical Community College with an associate degree in production agriculture. Shortly after graduating, he decided one way to learn a little more was to join a team in the Midwest for the wheat harvest. He spent a few weeks on a combine in the middle of tens of thousands of acres of wheat. It was a sink or swim environment. You had to be a farmer, a mechanic, and an agronomist to succeed and focus on time management and relationship building.
Atkins is a graduate of LEADelaware, a past member of the National Bio-Diesel Board and currently serves as a Director for Sussex County Farm Bureau and the Delaware Representative for the United Soybean Board. He is also a member of the Mid-Atlantic Soybean Association and chair (past president) of the Delaware Soybean Board.
Over the years, he has worked with Southern States as a commercial applicator and Pictsweet as a field representative, seed dealer and community builder. For his efforts in agriculture through work and his personal life, he received the Conservation Legacy Award for the Northeast region.
He continues to farm in Sussex County with his wife Kate and their three-year-old son, Connor, as his biggest cheerleaders and advocates.