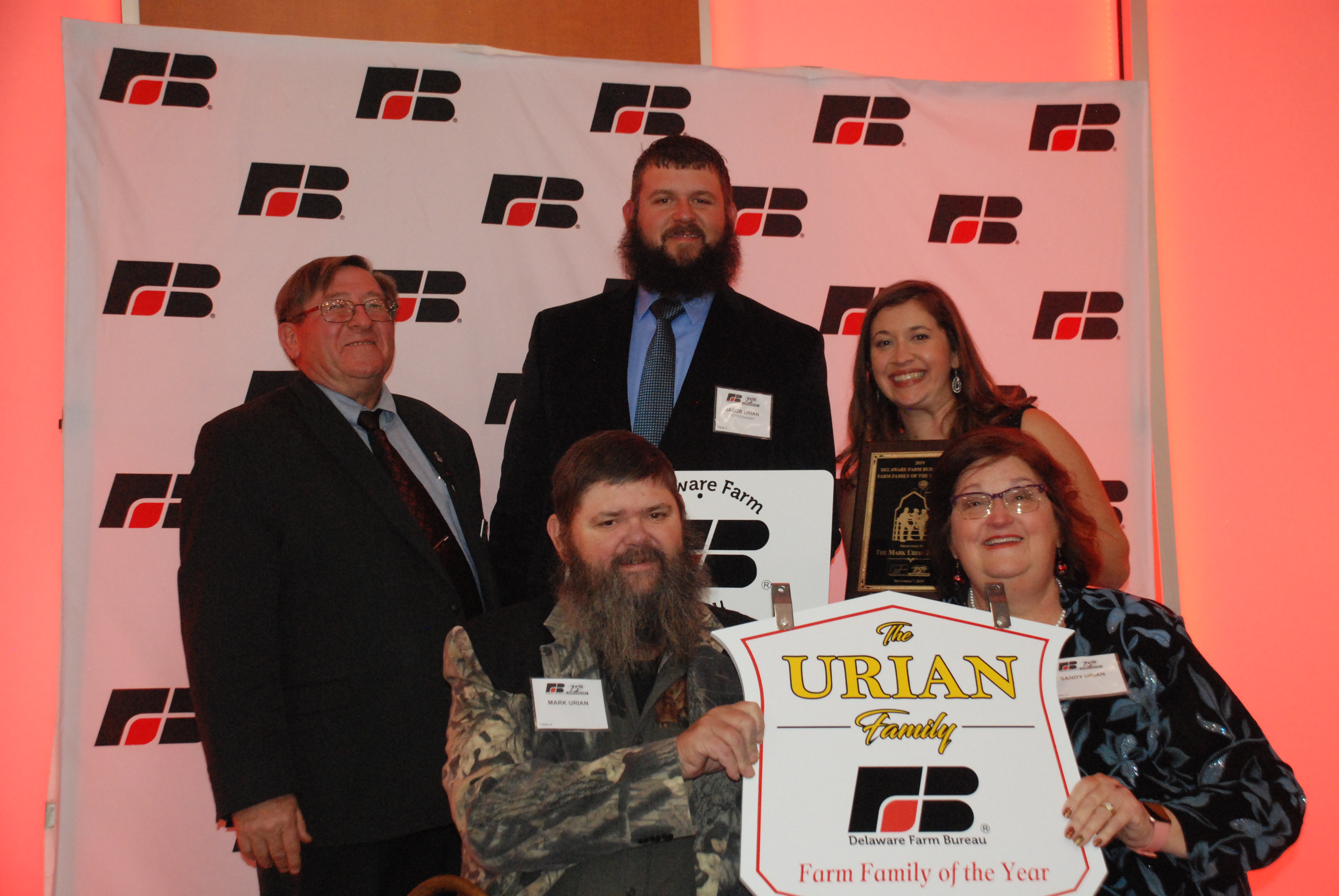 More than 400 farmers and friends of agriculture gathered Dec. 7 at Del Tech's Terry Campus in Dover for the Delaware Farm Bureau's 75th anniversary celebration banquet.
DFB President Richard Wilkins welcomed them, saying, "Tonight we are offering images of the past, remembrances of our friends and family who have served before us, and honoring the accomplishments of Delaware agriculture that so many dedicated and courageous Farm Bureau members have tirelessly helped to make possible over the previous 75 years."
Wilkins compared Farm Bureau's advocacy work to planting seeds in the soil. With seeds, the rewards are evident at harvest within a few months. With advocating for what is good for farmers and agriculture, Wilkins said, "it is rare to be able to see the results in a single season…. Often it takes repetitive attempts before you can begin to influence the minds of those who are so unfamiliar with what we do."
Recognized as special guests, Sen. Tom Carper led in an impromptu recitation of the preamble to the Constitution, and Gov. John Carney saluted the farmers, noting the number in attendance was extraordinary.
Congresswoman Lisa Blunt-Rochester offered a toast, holding up a glass of apple cider provided by Fifer Orchards. In rhyming verse, she thanked the farmers and wished them strength and prosperity. "May the Farm Bureau be here another 75 years and more."
Wilkins expressed appreciation to the many sponsors who generously helped make the gala possible, chief among them Nationwide Insurance and Corteva Agriscience.
Photos were displayed on video screens of county recipients of Distinguished Service to Agriculture Awards and Farm Family of the Year before the naming of the state Farm Bureau award winners.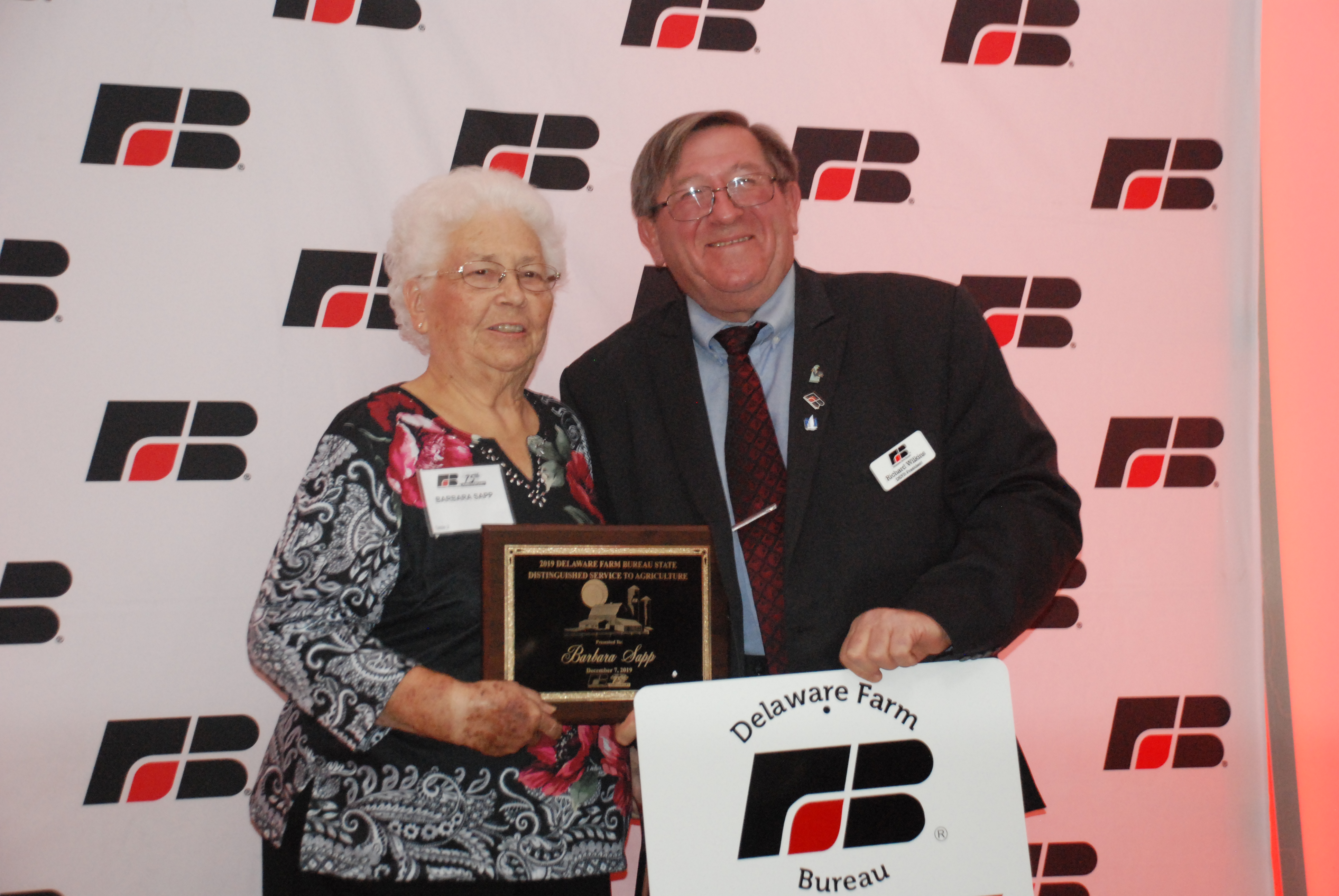 Barbara Sapp was presented the DFB's Distinguished Service to Agriculture Award. Sapp has served as chair of Sussex County and the state Women's Committee and other committees within Delaware Farm Bureau. She was a member of Delaware's original Nutrient Management Commission. She and her husband, Richard, have farmed in Milton for 60 years, with the help, in recent years, of their son, Richard Jr., and grandson Richard III ("Trey").
The honor of being tapped 2019 DFB Farm Family of the Year went to the Mark Urian family of Kent County. While still in high school, Urian farmed the family's land after the death of his father. When grown, he worked both on and off the farm. He and his wife, Sandy, raised three children who also love agriculture. Their son, Jacob, is now Kent County Farm Bureau President.
Ted Bobola presented awards from the Young Farmers and Ranchers Committee. Robert Garey was named Supporter of the Year, and Michael Lynch received the YF&R President's Award.
Master of Ceremonies for the evening was Delaware Ag Secretary Michael Scuse, who thanked Farm Bureau "on behalf of all the farmers in Delaware for all the work you've done."
Before and during dinner, attendees bid generously in a silent auction to benefit the YF&R Committee. They also had the opportunity to sponsor colorful and educational books about farm equipment to be placed in elementary schools along with Book Barns and other "ag correct" books. DFB's Promotion and Education Committee has a goal of placing a set of books and special bookcase in every elementary school in the state by the end of next year.
J.T. Robbins conducted a live auction of several items including a Henry level action 22 repeating rifle engraved with the 75th anniversary logo, a Farm Bureau specialty plate No. 75 donated by Clifford Short Insurance, an hour-long helicopter ride for three donated by Chorman Spraying LLC, aerial spraying or seeding valued at $1,000 given by First State Ag Air Inc. and a sweet potato pie baked by Barbara Sapp. Secretary Scuse joined in the action, egging on bidders and eventually taking over auctioneer duties as a "Murder Mystery Dinner for Eight" to be catered by the King sisters of King Crop Insurance was auctioned, bringing a winning bid of $1,600 which will benefit the YF&R. The celebration continued into the evening with musical entertainment by the Indian River Band.