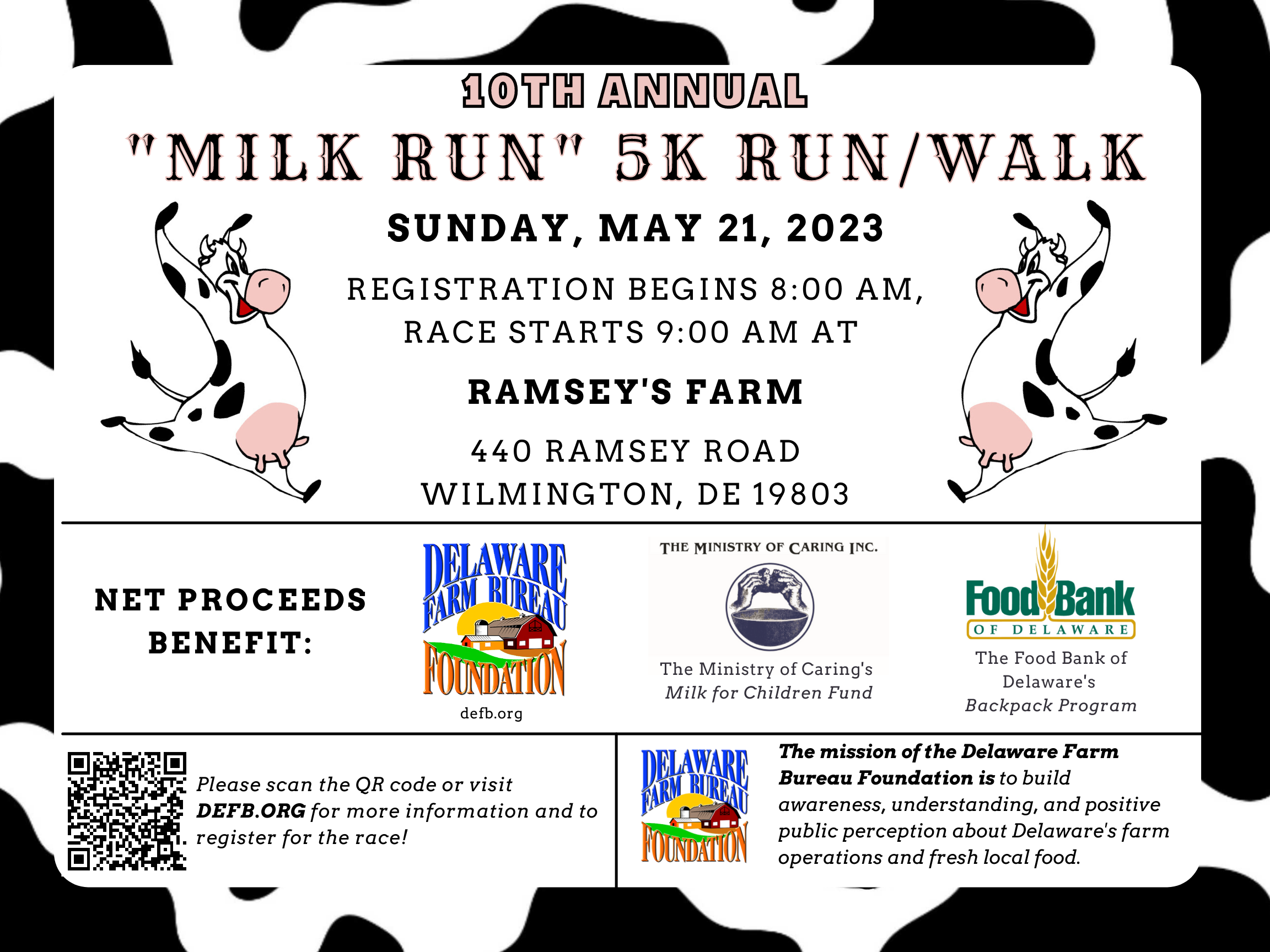 The 10th annual Milk Run is on the moooove.
With its roots deeply planted in New Castle County, the Delaware Farm Bureau Foundation's annual event will return to an upstate venue Sunday, May 21 as runners and walkers enjoy the morning out at Ramsey's Farm.
Born out of necessity, the Milk Run started after one farmer noticed that children were being served only half glasses of milk at the Ministry of Caring in Wilmington just a decade ago. That farmer, Scott Unruh of Townsend, brought the need back to fellow farmers at the Delaware Farm Bureau who decided they could help fill those glasses.
The Delaware Farm Bureau Foundation, then called the Delaware Agriculture Foundation, was created alongside its first event – the Milk Run 5K Run/Walk.
"In our first year, we raised almost $20,000. Over the past 9 years, we've raised over $190,000. We're hoping this 10th event sends us flying past $200,000," Foundation Coordinator Kali Voshell said. "We're even more excited to be able to do that with a Delaware farm as our backdrop."
Each year, the event raises funds for the Foundation's operations which is focused on improving ag literacy in the First State. Proceeds also benefit the statewide backpack program at the Food Bank of Delaware and the Ministry of Caring which services clients from all three counties.
Priscilla Rakestraw of the Ministry of Caring previously told the Delaware Farm Bureau that the donation from this event still supports the purchase of milk for children who come through their programs. They also offer printed materials to share news about agricultural opportunities such as farmers' markets with the people they serve.
Along with raising money for causes that positively impact people throughout Delaware, participants can also learn about agriculture on the day of the race by enjoying the farm and its Farm Yard Playground, checking out the petting zoo and visiting the Foundation's Mobile Ag Lab. Participants can also enjoy ice cream from Woodside Creamery.
"I'm so happy to be hosting this event at our farm. We do other events like this throughout the year and they are always a blast. It's another great way to bring folks out and share agriculture with the community in a unique way," New Castle County Farm Bureau President and Ramsey's Farm owner Stewart Ramsey said.
The 10th annual Milk Run 5K Run/Walk will start at 9 a.m. with registration beginning at 8 a.m. A children's race will also be held. Registration is $25 until May 13, and $30 after that date and on the day of the event. Those wishing to register can visit https://defb.org/foundation/milk-run/. 
Ramsey's Farm is located at 440 Ramsey Road in Wilmington. Visit www.ramseysfarm.com for more information.